Josh Johnson Done for Year
Added on Sep 13, 2010 by Evan Walker in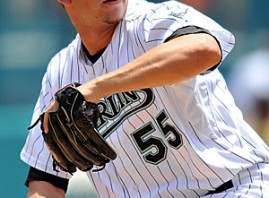 The Florida Marlins have had a mediocre season to say the least – they sit 10 games back in the National League East with a record barely above .500, but the one bright spot for this Florida team has been the incredible pitching of their ace Josh Johnson.
Johnson has been one of the National League Cy Young favorites all season – and deservedly so.
Through July 31, Johnson was 10-3 with a 1.72 ERA and opponents were hitting .212 against him. In seven starts since, he was 1-3 with a 4.25 ERA and an opponents batting average of .284.
The back issues that sent Johnson to the bench were certainly affecting his pitching and the Marlins were not going to let him just pitch through his injury anymore.
Johnson has already had Tommy John surgery earlier in his career.
Although the Marlins may not be mathematically eliminated from the playoffs quite yet, they feel like that resting Johnson and giving him the rest of the year and the off-season to heal would be the best move to make.
Florida is focused on the long-term.
Meanwhile, the Marlins look to spoil the Phillies playoff hopes. The two teams opened a three-game series earlier tonight.
Philly won 11-4.
No Comments