MLB Baseball Betting Picks: Colorado Rockies at Atlanta Braves
Added on Sep 06, 2012 by Jack Thurman in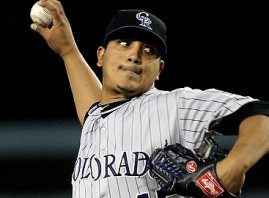 Short card of Major League Baseball action on Thursday but there are several important games on the board. In the National League the Atlanta Braves try to make up ground on the Washington Nationals atop the Eastern Division as they play the Colorado Rockies in the final game of a four game series at Turner Field. Atlanta enters Thursday's contest 7.5 games behind the Nationals and desperately need to keep winning and hope Washington stumbles if they're to have any hope to make the postseason.
Colorado Rockies at Atlanta Braves
September 6, 2012 9:10 AM Pacific
The Braves have been treading water lately, splitting their last 10 games which hasn't gotten it done with the Nationals still in solid form winning 7 of their last 10. Washington will host the lowly Chicago Cubs today so Atlanta faces a 'must win' situation if they're to have any hope to run down their NL East rivals. Unfortunately as every sports handicapper knows full well teams in 'must win' situations don't necessarily do what they need to do. In fact, over the longterm there are few stronger betting positions than going against teams in 'must win' situations.
Colorado has been playing fairly well in the stretch run though they're well out of contention in the NL West. They're actually 'in the black' on the road this year (albeit by less than a unit) and despite a solid 39-32 record at Turner Field the Braves have lost money for their 'financial backers' on their home field. Tommy Hanson will get the start for Atlanta and his YTD ERA isn't overly impressive at home (4.27) and his recent form has been even worse. Hanson has a 5.00 ERA in his last three assignments with the Braves losing two of those three games. The Rockies will counter with Jhoulys Chacin who has looked good since returning to action from the DL. Chacin has a 1.50 ERA in his last three starts with the Rockies winning two of three. With Atlanta running out of time to catch Washington and with the talented righthander Chacin opposing them we'll gladly take the big underdog price with the visiting Rockies. With the Braves set to leave on a crucial road trip the Rockies could catch them looking ahead.
Bet Colorado Rockies (Chacin) +175 over Atlanta Braves (Hanson)
No Comments