MLB Betting Picks: Baltimore Orioles at Toronto Blue Jays
Added on Sep 04, 2012 by Jack Thurman in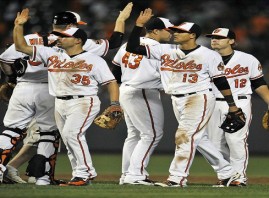 It wasn't that long ago that the AL East race looked as good as over. The New York Yankees were running away with the division and leaving everyone else to play for the runner up spot. Things have changed dramatically over the past couple of months and the Yankees now share the lead with the red hot Balitmore Orioles. The O's will try to keep pace with the 'Bronx Bombers' as they play the final game of a three game set against the Toronto Blue Jays.
Baltimore Orioles at Toronto Blue Jays
September 5, 2012 4:05 PM Pacific
The Baltimore Orioles have been a very profitable team all season long but for the past month or so they have officially been the hottest team in baseball. They'll enter this game having won 8 of their last 10 games and since August 1 they've gone 21-10. That–combined with substandard play from the New York Yankees–have allowed the Orioles to earn a tie for the divisional lead.
So why stop now? Baltimore is now +29.9 units overall for the season and Toronto hasn't been anything special at home going 33-34 -4.6 units at the Rogers Centre. The Orioles have been dominant on the road this season going 40-29 +24.5 units and have cleaned up against their own division going 30-21 +18.1 units. They've also pummeled right handed pitchers racking up +16.6 units against them.
Toronto's Brandon Morrow hasn't been bad this year–he's got a 2.93 ERA overall though a slightly less impressive 3.72 ERA at home. The Blue Jays have won 9 of his 15 starts overall but are just 4-4 at home. Baltimore's Miguel Gonzalez has been even better and particularly on the road–Gonzalez has a 3.50 ERA overall but a 2.52 ERA on the road. Baltimore has won 7 of his 10 assignments this season and 5 of 6 on the road. Of particular concern from the Toronto standpoint is their substandard play against teams with winning records–against opponents over .500 the Jays are 38-57 -14.7 units. Just don't see a reason to get off of the Orioles until they give us a good reason to do so and that's definitely not been the case recently. If the Tampa Bay Rays give them some help against the Yankees today they could finish Wednesday's action in sole possession of first place. Sure don't see them letting up now.
Bet Baltimore Orioles (Gonzalez) +100 over Toronto Blue Jays (Morrow)
No Comments