Padres and Braves Division Leads Dwindling
Added on Sep 06, 2010 by Evan Walker in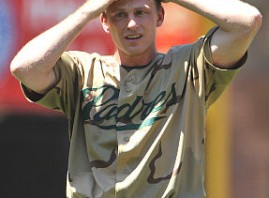 Just 12 days ago, the San Diego Padres were the team to beat in the National League. The friars seemed to have the playoffs in the grasp of their hands with a 6 1/2 game lead in the NL West.
Since then, things have changed.
Yesterday afternoon, the Padres got swept up by the Colorado Rockies, marking their 10th consecutive loss. Now, the Padres' lead over San Francisco  in the west is just one mere game.
Only two teams in the history of the game have reached the playoffs in the same season they also had a losing streak of at least 10 games; The 1982 Atlanta Braves and the 1951 New York Giants – thanks to Bobby Thomson.
Let's move on up to the east side.
The Atlanta Braves have held first place in the National League East for over three months.
In Bobby Cox's final season, the baseball gods have seemed to dwell in Atlanta, blessing them with walk-off wins and the best home record in baseball, but the second place Philadelphia Phillies are not going down without a fight.
An NL East lead that was once a comfortable seven games has turned into a miniscule one game and the Braves can hear the increasingly loud footsteps of Chase Utley and Ryan Howard right over their shoulders.
While the Phillies face those scrappy Florida Marlins in today's Labor Day doubleheader, the Braves will play the rebuilding Pittsburgh Pirates.
As for the Padres, they will face the Los Angeles Dodgers while the second place Giants square off against the last place Arizona Diamondbacks.
No Comments