Party time in Texas! Rangers capture AL crown
Added on Oct 23, 2010 by Ted Sillanpaa in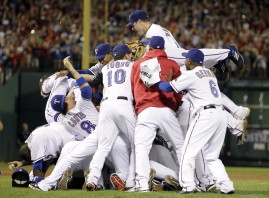 Nelson Cruz belted a long home run and Vladimer Guerrero drove in three runs Friday as the Texas Rangers advance their first World Series.
The Rangers got a strong performance from starting pitcher Colby Lewis and stunned the defending world champion New York Yankees, 6-1, in Game 6 to win the American League Championship Series.
A wild celebration broke out on the field for a franchise that has waited 50 years for its first trip to the Fall Classic.
"The World Series is coming to Texas," said Michael Young, who has been with the Rangers for 10 seasons, longer than any of his teammates. "These fans have waited longer than we have. I know how bad we wanted it and they must have wanted it more."
The Rangers were formed as the expansion Washington Senators in 1960. The Senators moved to Texas and became the Rangers after the 1971 season.
Guerrero is headed to the first World Series in his stellar 15-year career after the Rangers sent a wild crowd of 51,404 into a frenzy with the victory.
When Alex Rodriguez took a called third strike to end the game, fireworks exploded in the sky high above, confetti filled the air and the Rangers embraced each other near the mound.
The AL title also continues an amazing season under the ownership of Nolan Ryan and Chuck Greenberg, who bought the team from Tom Hicks in an auction.
The Rangers, who had never won a postseason series or a home playoff game before this year.
"We didn't accomplish what we set out to. And as I told my guys, this hurts," Yankees manager Joe Girardi said. "They beat us. They outhit us, they outpitched us, outplayed us and they beat us."
Lewis shined in eight innings for his second win of the series and Josh Hamilton earned the ALCS MVP award.
Ryan, the Hall of Fame pitcher who is the team president, joined the team on the field for the celebration.
"Our fans have waited a long time, this organization has waited a long time," Ryan said. "This team coming out of spring training was on a mission."
Hamilton said he cried in center field before the final out.
"We are here as a group. This group is here because they don't know how to fail," Hamilton said.
No Comments