Pettite To Return Sunday
Added on Sep 15, 2010 by Evan Walker in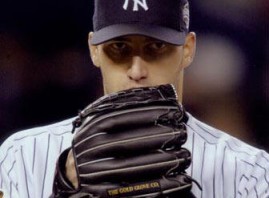 The New York Yankess no longer have to live with the anchor of their pitching staff collecting dust on the bench.
Yankees left-hander Andy Pettitte is set to rejoin the rotation on Sunday.
New York manager Joe Girardi announced the plan for Pettitte before Wednesday night's game against Tampa Bay. Pettitte has been sidelined since June 19 by a strained left groin and the Yankees have certainly missed his presence on the mound.
With his return, the struggling Javier Vasquez will shift to a long relief role.
when asked about his upcoming start on Sunday, Pettite told MLB.com "I know I can give our team 75 or 80 pitches in that start. Otherwise I don't really know what to expect. I just want to get in there. I'm a piece of the puzzle as far as our rotation and our plans are. I've been out a lot longer than I wanted to be and it's been terrible for me."
To say that Pettite is a huge piece of "the puzzle" is an understatement. The Yankees will sigh a huge sigh of relief when he returns – especially since they were just knocked out of first place by the Tampa Bay Rays late Wednesday night.
No Comments