Posey sparks Giants in 9th; Phils on brink in NLCS
Added on Oct 21, 2010 by Ted Sillanpaa in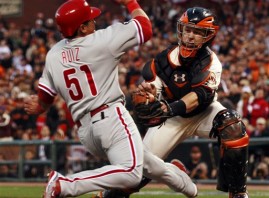 Buster Posey was at the center of the action throughout Game 4 of the National League Championship Series on Wednesday in San Francisco.
The sensational rookie singled, his fourth hit of the game, to set up Juan Uribe's sacrifice fly in the bottom of the ninth inning to spark the Giants to a thrilling, 6-5, win over the Phillies.
San Francisco takes a 3-1 lead in the best-of-seven series. Tim Lincecum faces Phillies' ace Roy Halladay in Game 5 tonight. The defending world champion Phillies must win to send the NLCS back to Philadelphia for Game 6.
Uribe hit a game-ending sacrifice fly off reliever Roy Oswalt, the starting pitcher who worked eight innings on Sunday, with one out in the ninth inning.
Aubrey Huff singled with one out in the ninth and raced to third when Posey rocketed a double down the line to right. Phillies rightfielder Jayson Werth made sterling diving stop to keep the ball from going to the wall to score Huff.
Uribe, who'd made a great defensive play at shortstop in the top of the ninth, hit a medium-deep fly, to score Huff and push the Giants to within one game of the NL title.
Posey went 4-for-4 and made an outstanding play to tag out sliding Carlos Ruiz on a play at the plate to save what turned out to be an important run.
The 23-year-old struck out three times in Game 3 on Tuesday, but responded with a big night in Game 4 — capping it with the clutch single against Oswalt.
"We faced him a couple nights ago," Posey said. "He's got great stuff … just kept battling."
Cody Ross had another clutch hit for the Giants and Pablo Sandoval rocked a big double as the Giants pushed the Phillies to within one loss of elimination after Philadelphia had rallied from a 2-0 deficit to take a 4-3 lead in the fifth inning.
"We know what is at stake, but the game is the same. We have an opportunity to win a game tomorrow," Phillies shortstop Jimmy Rollins said.
Uribe entered at shortstop in the top of the ninth. He immediately picked up a hard one-hopper by pinch-hitter Ross Gload in the hole and made a strong throw while falling away for the out. Closer Brian Wilson finished a scoreless ninth to get the win.
Werth hit a tying RBI double in the eighth after Ryan Howard doubled against Javier Lopez leading off the inning.
Posey had an RBI double in the first and run-scoring single in the third — both coming with two outs — for his first RBIs of the postseason. He added a seventh-inning double.
No Comments