Sanchez leads Giants' demolition of Lee, Rangers in World Series Game 1
Added on Oct 28, 2010 by Ted Sillanpaa in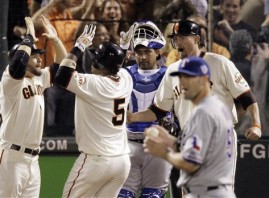 San Francisco Giants' hitters didn't treat Texas Rangers left-hander Cliff Lee like the postseason sensation he has become over the last two seasons.
Freddy Sanchez and those Giant hitters bombed, then chased Lee in the fifth inning on Wednesday night to knock off the Rangers, 11-7, in Game 1 of the World Series at AT&T Park in San Francisco.
The Giants battered Lee, who entered the game unbeaten in postseason play. Sanchez hitthree doubles and sparked a stunning ix-run burst where the Giants blew open a game they trailed 2-0 after the second inning.
"You never think you're going to have success against a pitcher like that," Sanchez said after playing in his first World Series game. "He's one of the best pitchers in the game, been unhittable in the postseason."
Giants ace Tim Lincecum and Lee entered what was billed as a pitchers duel and watched it quickly become a slugfest.
The Rangers hurt themselves, making four errors for the first time in a game since 2008. The Giants, however, tacked on runs late and got timely work from the bullpen, especially Santiago Casilla in the sixth, after Lincecum departed.
"It wasn't quite the game we thought it would be," Giants manager Bruce Bochy said. "Great pitchers, sometimes they're a little bit off."
Cody Ross and Aubrey Huff hit line drives up the middle. Juan Uribe launched a home run to cap the fifth-inning uprising.
"I think it's just baseball. That's the only thing you can say," Sanchez said. "This is a crazy game."
A tie game suddenly became an 8-2 thumping in the fifth inning when Lee suddenly looked nothing like the unbeatable postseason pitcher he had been.
"I was trying to make adjustments," Lee said. "I was up. I was down. I was in. I was out. I was trying to find it, and I was never really consistent with what I was doing."
Lee came into the game with a 7-0 record and a 1.26 ERA in postseason play. Texas gave him an early 2-0 lead.
"We weren't too worried," Sanchez said. "We were actually surprisingly calm in there. We know he throws a lot of strikes. We just wanted to attack him early."
Lee threw first-pitch strikes to 15 batters and seven of those hitters swung.
Game 2 is today in San Francisco. Giants right-hander Matt Cain faces Rangers lefty C.J. Wilson.
No Comments