Strasburg Surgery Successful
Added on Sep 03, 2010 by Evan Walker in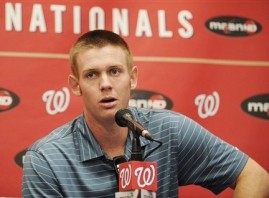 Stephen Strasburg's long-awaited rookie season is officially over.
Strasburg had Tommy John surgery earlier today. The surgeons that operated on the 15 million dollar man say that "Strasburg came through with flying colors and it went smooth an uneventful."
Strasburg hopes to begin "light tossing" in about four months, but it will be at least a year before Strasburg even thinks about a mound and rosin bag.
In 12 games with the Nationals, Strasburg lived up to all of the hype surrounding him, going 5-3 with a 2.91 ERA and 92 strikeouts. 
Although the rest of the world will move on and temporarily forget all about  Stephen Strasburg, this young phenom will devote his entire life to rehab for the next 12-18 months and do everything in his power to return even stronger than before.
Some of the best pitchers in baseball are Tommy John survivors and there are some critics who even say that the procedure is an unfair advantage over the competition.
Some notable pitchers to go under the knife are Josh Johnson, Tim Hudson, Billy Wagner, David Wells, John Smoltz and Mariano Rivera, so it is safe to assume that Strasburg has a good chance of returning with no problem.
When the flamethrower does return to the mound, he will be playing for a different Washington Nationals.
Recently-signed Bryce Harper will likely be batting cleanup instead of Adam Dunn and Jordan Zimmerman will likely take the reigns of the Nationals pitching staff and establish himself as a legitimate starting pitcher.
Hopefully, for the sake of the nation's pastime and the nation's capital, Strasburg will return and be even better than ever, because with all of the press that surrounds the phenom, the more press around the sport of baseball.
No Comments