Brent Burns Makes it Official With The Sharks And Signs 4 Year Extension
Added on Aug 01, 2011 by J Merrill in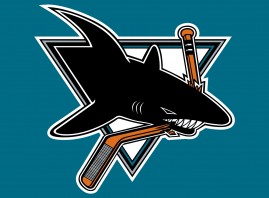 Before even playing a game as a San Jose Shark Brent Burns signed a deal that will keep him in teal until the 2016-17 season. Even though he had one year left on his deal with the Minnesota Wild, Burns was traded to the Sharks for for right wing Devin Setoguchi, prospect Charlie Coyle and a first-round draft pick.
Without ever having played a game with the Sharks, Burns signed on to what will be a five year deal and reportedly worth $28.8 million. He has one year remaining on a four year deal he signed with the Wild in 2007 worth $3.55 Million and his new contract won't kick in until next season.
After visiting the city to sign his new contract, Burns said he knew he made the right choice. He said "After the trade went through we went down to San Jose and it was awesome. The city was great and the organization was just unbelievable how they treated us. With that excitement building for our family, it really made getting traded for the first time easier. Having the chance to sign the extension, it was a no-brainer for us. We have a little bit of security for our family and now I can just focus on playing hockey."
The 26 year old Burns, is coming off of a season full of career highs. he broke his best marks with career highs in goals (17), assists (29), points (48), penalty minutes (98) and shots on goal (170). He has 183 points in 453 games over six seasons since debuting with the Wild in 2005-06.
Sharks general manager Doug Wilson wanted Burns for more than just the remainder of his contract with the Wild, and admitted the extension was the only reason that this move would make sense. He said giving up a top propsect like Stoguchi and a first round pick for one season would have been at the very least short sighted. Wilson said "A contract extension was a major priority and for it to happen this quickly, with this type of contract and structure, I can't thank Brent enough for being a good teammate and a good part of this organization, His character and his makeup allowed us to get this extension, which really does work well for us now."
For the time being, Burns said he is going to be renting a home despite knowing he will be in San Jose for at least 5 years. He said he wants to get the lay of the land, and figure out the best place to purchase for his family and his animals. Among other animals, Burns has a large collection of snakes he will be leaving in St. Paul. Burns concluded, "This year we're going to keep it simple. Just go down, play hockey and enjoy a little bit of a different life for the year. I have a girl here that takes care of everything well. It's going to be a different move for us. It's going to be difficult trying to bring the cages and animals down without having a place to settle. We're going to take our time and we'll do it later if possible."
No Comments