Montreal Quarterback Calvillo To Start On Friday
Added on Jul 28, 2011 by Jack Thurman in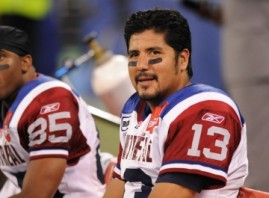 Montreal Alouettes' quarterback Anthony Calvillo is one of the toughest players in any professional football league. For that reason its not a huge surprise that he'll be starting on Friday night against the Hamilton Tiger-Cats despite being knocked out of his last game due to a hard hit that left him with double vision. Former Florida State standout Adrian McPherson played the second half of the Als' loss to Saskatchewan.
On Tuesday, Calvillo's status was questionable. Saskatchewan's pass rush gave him problems all day and knocked him from the game after complaining of blurred vision following a hard hit. Making Calvillo's injury even scarier for Montreal was that its not the sort of thing that the hyper-tough veteran can 'play through'. He's was initially listed as 'questionable' for Friday's game against Hamilton. On Tuesday Calvillo characterized the injury as 'better but not where it needs to be'.
Things had improved markedly by Wednesday. Calvillo participated in practice with no apparent problems and Als' coach Marc Trestman made this low key pronouncement of his fitness:
"His eye has cleared up so he'll be starting"

Calvillo was similarly nonplussed by his injury and quick recovery:
"Yes, right now everything's good to go. The vision has not given me an issue in the last 24 hours. I was able to go out there and make all the reads and do the things necessary to compete."
Coming off their first loss of the year Calvillo and the Als' will have even more weapons with the return of wide receiver Kerry Watkins and offensive lineman Josh Bourke. The return of Watkins is especially good news–he is coming off of adenoid removal surgery and Trestman says he'll be brought along slowly:
"We're going to ease him into our offence and see where he is during the course of the game."

The All Star receiver didn't exactly sound like he was planning to take things slow upon his return to action despite what his coach says:
"I don't know what that means. All I know is when I'm out there, I'm out there. I don't plan on coming out."

After a slow start to the season Hamilton has evened their record at 2-2 following two consecutive wins.
No Comments