Bob Bradley Fired As US Men's Soccer Coach
Added on Jul 28, 2011 by Jack Thurman in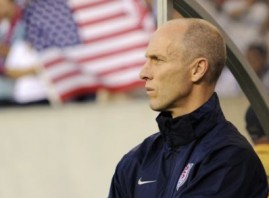 Better late than never, the 'reign of error' of US Men's soccer coach Bob Bradley is over. The last straw was a loss to the visiting Mexico team in the recently completed Gold Cup. He led the US team to the semifinals in last year's World Cup, but that was due more to the personal effort of Landon Donovan than any sort of tactical master plan. In reality, a final 16 appearance was a minimal expectation given the talent level of the US team.
US Soccer President Sunil Gulati had a fairly by the book 'future endeavors' type statement announcing Bradley's dismissal:
"We want to thank Bob Bradley for his service and dedication to U.S. Soccer during the past five years. During his time as the head coach of our Men's National Team he led the team to a number of accomplishments, but we felt now was the right time for us to make a change. It is always hard to make these decisions, especially when it involves someone we respect as much as Bob. We wish him the best in his future endeavors."
Bradley was given a contract extension last year despite the fact that many soccer observers (this one included) thought that the US team's progress had stalled under his tenure. His supporters pointed to the World Cup performance as a positive, but the reality is that the US team struggled to advance from an easy group assignment and was eliminated by a Ghana team they could have–and should have–beaten.
A replacement hasn't been named but the expectation is that the US soccer heirarchy will move quickly to secure Bradley's successor. An announcement could be forthcoming as soon as Friday, though as of yet there's no indication who the new coach might be. There have been some rumors attaching former Germany player/coach Juergen Klinsmann to the job, along with some other talk that the gig might go to a MLS coach like Real Salt Lake's Jason Kreis.
Soccer may not have caught on yet as a mainstream sport but there's enough talent in this country that simply being competitive is no longer enough. The new US team coach needs to take the team to the next level where they're in the mix for regional and international championships.
No Comments