Denver Broncos Favored In Wide Open Super Bowl Betting Field
Added on Jan 03, 2013 by Jack Thurman in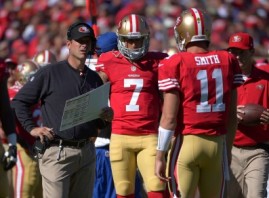 By any metric it's been a crazy year for the Denver Broncos. This time last year they were scrapping their way into the playoffs behind their tough defense and the unique skills of quarterback Tim Tebow. In the off season they rolled the dice on legendary quarterback Peyton Manning who despite his impressive career accomplishments was 'damaged goods' after missing the entire 2011 season recovering from neck surgery. They entered the 2012 NFL season with a first rate coach in John Fox, a stout defense and a ton of question marks.
Fast forward to January 2013–the Broncos are the hottest team in the league having won eleven straight games. Peyton Manning is a strong candidate to win his 5th MVP award. Were it not for the incredible comeback season by Minnesota Vikings' running back Adrian Peterson and his flirtation with the all time single season rushing record he'd be a shoo in. All of that has combined to make the Denver Broncos the current Super Bowl betting favorite in a wide open season without a single dominant team. The Broncos are a +275 choice to win the Super Bowl in what would complete one of the most amazing single season turnarounds in history.
Denver is one of five teams priced at single digit betting odds. Right behind the Broncos are probably the best 'pedigree' team in the field, the New England Patriots with coach Bill Belichick, quarterback Tom Brady and a legacy of success over the past decade. The Pats are a +380 second choice to win another Super Bowl title. The upstart San Francisco 49ers are +500, the Atlanta Falcons are +700 and the Green Bay Packers are +800.
Also in the playoffs are the Seattle Seahawks at +1200. The biggest drop from earlier this season is the Houston Texans who spent much of the season as the favorite to win the Super Bowl. After a bad finish to the regular season during which they dropped all the way to wild card status they're now a +1650 choice to win. The Washington Redskins are +2250, the Baltimore Ravens are +2350 and the Indianapolis Colts and Minnesota Vikings are both priced at +5000. The biggest longshot are the Cincinnati Bengals at +5200.
No Comments