Houston Texans Face Uphill Battle Against History In Super Bowl Quest
Added on Jan 07, 2013 by Jack Thurman in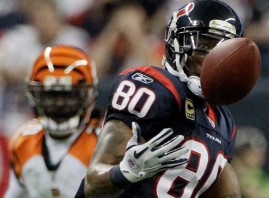 In the early months of the NFL season the Houston Texans could do little wrong. The entered December with a 12-1 record and were expected to coast to the AFC South title, the best record in the conference and home field advantage–and a first round bye–in the playoffs. There was some trepidation that they'd 'played down' to the level of their most recent opponents–overmatched teams like Jacksonville, Tennessee and Detroit–and needed a big rally and OT to beat two of those opponents. All in all, however, life was good.
They went into a December 10 Monday Night Football game at New England with a lot of confidence and the media hyped it as a potential AFC Championship Game matchup. Instead of it being a titanic struggle between equals it turned into a rout. New England opened up a 42-7 lead before winning 42-14 in a game that wasn't even as close as that final score would suggest. All told they would lose three of their last four regular season games and instead of locking up home field advantage or a bye would limp into the playoffs having to play in the wild card round.
Throughout most of the season the Houston Texans were considered the 'team to beat' in this NFL season. It was argued they had the most balanced team in the league with a competent offense, a stout defense and solid special teams. They spent much of the year installed as Super Bowl betting favorites at most sportsbooks but would eventually enter the playoffs as something of a long shot. The 'most balanced team' argument is now most often made about the San Francisco 49ers or the upstart Seattle Seahawks. The Texans were a team that many people paused before laying less than a touchdown on their home field in their opening playoff game against Cincinnati. Cincinnati was only in the playoffs due to the monumental collapse of the Pittsburgh Steelers but were only a +4 underdog in their game against the Texans. In other words, the betting public thought that the Texans were only 1/2 point better than Cincinnati on a 'neutral field'.
Houston won the game and may end up turning their season around at just the right time. They'll have the weight of history against them as they try to win the Super Bowl. After ending the season with three consecutive losses they're now in a very dubious category heading into the playoffs. In fact, only one team in history–the 2009 New Orleans Saints–lost their last three regular season games and went on to win the Super Bowl.
No Comments