Early Super Bowl Betting Line Favors AFC
Added on Jan 17, 2013 by Jack Thurman in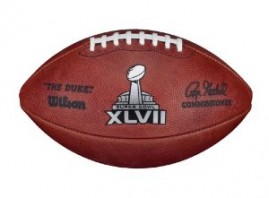 Although the Super Bowl matchup won't be set until after Sunday's NFC and AFC Conference Championship games there are already lines popping up for the big game at sports books worldwide. These betting propositions are giving the AFC the edge in winning Super Bowl XLVII in New Orleans though by most metrics it should be a very close game.
The most popular type of 'early' Super Bowl line is a bet where you can choose to back the AFC entrant or NFC entrant. Currently the AFC team (eg: Baltimore or New England) is a -2.5 favorite over the NFC team (San Francisco or Atlanta). On the money line, that makes the AFC a -140 favorite with a +120 takeback on the NFC side. There are also early totals posted as well–the Over/Under for the Super Bowl is posted at 50.5. Obviously if you like a particular team (or particular matchup) this is a good way to lock in betting value that wouldn't be available when the matchups are actually determined. For example if you think that Baltimore will beat New England on Sunday but lose to San Francisco in the Super Bowl you'd be well advised to bet the NFC +2′ now. Given the power ratings of the teams the Niners would almost certainly be a betting favorite against the Ravens and as such having the NFC +2′ would look awfully good.
Some sports books are also offering odds on specific matchups though no totals are currently available for these games. San Francisco would be a -3.5 favorite over the Baltimore Ravens which underscores the value implicit in betting the NFC now if you think the Ravens will advance. The Niners would be a +2 underdog to New England which makes the early bet on the NFC look less attractive. Should the Atlanta Falcons advance to the Super Bowl they would be a -1′ point favorite over the Baltimore Ravens and a +6 underdog to the New England Patriots. The specific matchup bets offer one significant advantage over the NFC vs. AFC bet–if the matchup you bet on doesn't transpire the bet is 'no action'. That means if you like San Francisco to win the Super Bowl but Atlanta pulls the upset in the NFC Championship you wouldn't be stuck with a bet on them.
No Comments