Can Batista Lead Argentina To World Cup Glory?
Added on Nov 23, 2010 by Jack Thurman in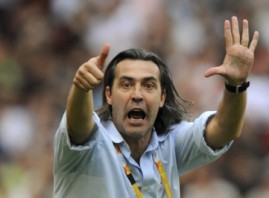 Heading into the 2010 World Cup, many observers considered Argentina a strong possibility to win the title.  The talent was certainly there led by arguably the best soccer player in the world, Lionel Messi.  The big question mark was coaching and, more specifically, how the team would perform under national soccer hero/walking enigma Diego Maradona.  Maradona had little managerial experience, but the hope was that his notoriously emotional approach to the game would add passion to a team that has lacked it in the past.  Despite winning Group B, Argentina was routed 4-0 in the quarterfinals.  Maradona's contract wasn't renewed, and now the Argentinians have turned to another national icon–Sergio Batista–to coach the team going forward.
Maradona's tenure was nothing if not entertaining.  After former coach Alfio Basile resigned following a 1-0 loss to Chile in a 2008 World Cup qualifier, the country's soccer hierarchy turned to Argentina's most celebrated soccer player—Diego Maradona.  Despite having no significant coaching experience, the move was made to give a talented team a degree of 'attitude' and swagger.
Maradona can charitably be called a 'character' and less charitably called a 'nut'.  Maradona is a soccer god in Argentina, and was crucial in the country's 1986 World Cup victory.  Since that pinnacle, his life has had ups and downs that Mike Tyson would consider insane (Maradona, incidentally, once interviewed Tyson on his popular TV show 'La Noche del 10').  In 1991, Maradona was suspended by FIFA for over a year after failing a drug test—not for steroids, but for cocaine.  In 1994, he failed another drug test and was sent home after testing positive for the stimulant ephedrine.
After he retired, things continued to go badly for Maradona and he's battled at various points a cocaine addiction, alcoholism and weight gain.  He's reportedly tamed his chemical demons, though despite a stomach stapling operation in 2004 his weight is still an issue.  He more closely resembles adult film actor Ron Jeremy than a legendary professional athlete.  He's also suffered a heart attack, liver damage and had to have facial surgery in 2007 after his dog bit him in the face.
Maradona remained in the public eye all the while, becoming a popular TV host in Argentina.  Despite this fame, he resented the media's attempts to pry into his personal life and once fired an air rifle at a group of reporters that was hounding him.  And if all of this didn't make him a controversial enough figure, he sports tattoos of Fidel Castro on his left leg and of Che Guevara on his right arm.   In 2002, he donated the Cuban royalties from his autobiography to 'the Cuban people and Fidel.'  Former teammate Jorge Valdano did a good job of summing up the bundle of contradictions that is Maradona with this quote:
"He is someone many people want to emulate, a controversial figure, loved, hated, who stirs great upheaval, especially in Argentina… Stressing his personal life is a mistake. Maradona has no peers inside the pitch, but he has turned his life into a show, and is now living a personal ordeal that should not be imitated."
Things didn't go particularly smoothly once he took the reins as Argentina's coach.  Criticisms ranged from 'a lack of organizational skills' to an inability to forge a team into a cohesive unit.  Others have complained that Maradona's system is a bad fit for his superstar Lionel Messi and does little to facilitate his prodigious offensive playmaking skills.  Still others suggest that Maradona is just flat out crazy and—unimpeachable soccer pedigree as a player notwithstanding—is simply not qualified for the job.  Maradona has responded to this criticism as you'd expect—during one press conference he told the media to "suck it and keep on sucking it" which not surprisingly got him in hot water with FIFA.
Eventually, Messi's poor showing and a power struggle with soccer administrators proved to be his undoing.  Initially, there was some consideration to bringing him back but only if his entire staff of assistants was replaced.  Maradona refused to do this, and that was that.  Enter Sergio 'Checho' Batista who was a teammate of Maradona on the 1986 World Cup winning team.  His personality is a marked contrast to the flamboyant and effusive Maradona–he's much more reserved and disciplined and some have suggested that his hire represents an 'overcompensation'.   He's got more formal coaching experience, but with most of his assignments at relatively low levels of soccer or in juniors he also lacks the high level International resume that most national team managers have.
Only time will tell if Batista's hiring will be a good fit.  So far so good, however, as in his first game at the helm of the national team Argentina beat Brazil 1-0 in an exhibition with Lionel Messi scoring the game winner in the 90th minute.
1 Comment