First Thoughts on Russia 2018
Added on Dec 10, 2010 by Trent Sillanpaa in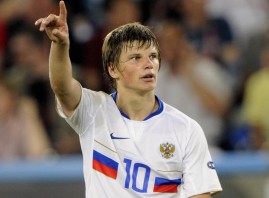 Just more than a week has allowed arrogant Americans and Brits to come to terms with losing their respective bids for future FIFA World Cup tournaments and now the real fun begins. While Russia 2018 and Qatar 2022 (yes, that really happened) are eons away in footballing terms, it's never too early to project issues that are certain to arise two or three World Cup campaigns from now. Since Brazil 2014 will get its due and the attention will shift away from the newly selected host countries in a relative blink of an eye, let us figure out what happened and why.
Russia is HUGE!
Leaving the in-depth analysis of each country's World Cup plans aside, one of the great arguments against the Russian bid without having known its plan would have centered around the large geographical footprint of the resurgent country. The same complaint was registered when the United States served as host in 1994 and seems to crop up in the lead in to the final tournament every four years no matter how small the host country is. Even South Africa sent teams from one coast to the other, prompting certain countries to site favoritism. In the end Russia addressed the potential problem by grouping host cities in clusters which should prevent teams from time zone-hopping during the tournament. That said, it will really be up to FIFA to set a schedule which doesn't send teams from one side of the country to the other and back again in group play. How much do you want to bet FIFA finds a way to screw team travel arrangements up just a little?
The Biggest Loser
You can't fault England for being stunned at the snub in favor of Russia. It's not so much that Russia lacks anything great – South Africa was less prepared even one year in advance of last summer's World Cup than Russia is likely to be four years from now – rather it's the fact that England could host next week if it had to. The stadiums are there, the accomodations from hotels to transportations exist, the footballing culture is fervent, and 52 years will have passed by the time of the opening kickoff of the 2018 World Cup. On top of the Brits' existing advantages, London is set to host the 2012 Olympic Games which will leave even more major event infrastructure in place for 2018. The fact is, you can't blame the Brits for being shocked at losing 2018 to Russia, especially when England is still riding high from securing the next Summer Olympics (which some say features athletic events following a grand opening ceremony, though I'm not sure what sculling is).
New Roads
Yes, new roads are being built as this is written, but those relevant to FIFA have nothing to do with traffic lights. FIFA is expanding its reach once again by passing over countries with deep roots in football culture for one which is still picking up on The Beautiful Game. Russia has dumped money into its own professional league in recent years and has seen its top teams succeed in European competition such as the Champions League and the Europa League. Now FIFA is challenging Russia to step up its game to a whole new level to prove its commitment to football. This tournament will help the Russian economy – at least in the literal build up – but it could help FIFA's "economy" even more, strengthening its grip on global sports as the once-dormant power rises again. Russia isn't as deprived as South Africa was or Qatar still is for something along the lines of a World Cup – news flash, it's an enormous deal – however, by pulling off a successful tournament it could make more money over one month and in the long run for FIFA than either of said tournaments.
Speaking of Rise to Power…
So maybe host countries aren't that starved for World Cup success. France won on home soil in 1998, South Korea stunned everyone by reaching the semifinals in 2002 (thanks in no small part to some ridiculously favorable refereeing decisions), Germany took third in 2006, and Brazil is a huge favorite to win on its own turf in 2014. Russia will be expected to do very well for itself on the pitch in 2018 as well. After a deep run during Euro 2008, Russia was expected to not just qualify for the 2010 World Cup but was expected to be a player. Instead it finished second with a bunch of points in a good group and lost a playoff with Slovenia. If football history teaches us anything it is that you cannot expect any player to be around eight years from today. Take Lionel Messi or Cristiano Ronaldo, try to project where they will be in 2018 (31 and 33 years old, respectively), and then throw those wild guesses out the window. So we really don't know who will suit up for Russia in 2018, though you can bet your bottom dollar that the team will be managed by someone world class who likes money. Russia has produced enough talent in recent years so that one can expect the 2018 side to be talented enough to ride a boisterous home crowd deep into the tournament.
No Comments