Futures Betting Favors Brazil To Win 2014 World Cup Title
Added on Nov 23, 2010 by Jack Thurman in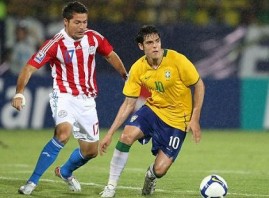 The 20th FIFA World Cup won't get underway until June 13, 2014 but sportsbooks are already offering futures betting odds on the outright winner of international football's biggest prize.  Brazil will be the host country for the 2014 World Cup, and they're also the current betting favorite to win the tournament on their home soil.  The final match will be held at the 76,525 seat Maracana Stadium in Rio De Janeiro and if you think that the home team will claim the cup you can already 'put your money where your mouth is' by placing a bet.
Bet365 has installed Brazil as a +350 soccer betting favorite to win the World Cup.  This isn't surprising and not just because they're the host nation–even people who don't follow the sport know that they're one of the national powerhouses in soccer.  They're always loaded with talent and have had more success in the World Cup than any other country.  Brazil played in the first World Cup in 1930, and they've played in every one since making them the only country to compete in all nineteen tournaments.  They'll run that record to 20 straight since the host country gets an automatic bid–not that anyone thinks they wouldn't be able to qualify otherwise.  Brazil has also won the World Cup more than any other country claiming five titles (1958, 1962, 1970, 1994, 2002) and have played in three of the last five finals.  They'll be anxious to bounce back to the top of the international scene after disappointing performances in 2006 and 2010–they were eliminated in the quarterfinals in both years.
Defending champions Spain are the #2 favorite at +450.  The big question surrounding the Spanish team heading into the 2010 World Cup was a relatively young roster with less international experience than other sides, but their run to the title dispelled any reservations about that.  Once again, they could be the true favorites–they've got arguably more talent than Brazil along with better coaching and focus.  Most importantly, Spain has demonstrated a 'killer instinct' that the often tentative Brazilians lack.
Third choice in the betting is Argentina at +550.  On the plus side, Argentina has one of the most talented frontlines in the world led by 2009 World Player of the Year Lionel Messi.  Messi is considered by most the best soccer player on the planet, though he's not really excelled in International play for Argentina.  The team has just made a coaching change replacing national legend/borderline nut Diego Maradona with Sergio Batistia.
Every other team in the field is priced at +1000 or higher, with England at +1200 and the United States at +8000.
No Comments