Juan Manuel Marquez and Michael Katsidis In a Can't Miss Unified Title Bout
Added on Sep 23, 2010 by Brian Blake in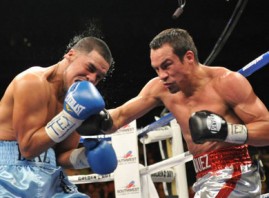 I couldn't help but have a smile on my face as I got back to my computer yesterday and read a press release from Golden Boy Promotions announcing a lightweight unification bout between living legend Juan Manuel Marquez as the always exciting Aussie, Michael Katsidis.  Some match-ups have "classic" written all over them and, fortunately for fight fans, this is one of them.
"Given the styles of both fighters, Marquez vs. Katsidis has Fight of the Year written all over it," said Oscar de la Hoya, president of Golden Boy Promotions.  "Marquez looked better than ever against Juan Diaz in his last fight and Katsidis is in top form coming off of a big knockout win over Kevin Mitchell; so boxing fans will be in for a treat on November 27."
The 12 round event is appropriately being billed as Warriors: Marquez vs. Katsidis is scheduled for Saturday, November 27 and will be televised live on HBO Championship Boxing from the MGM Grand Garden Arena in Las Vegas, Nevada.
When these two go toe to toe on Thanksgiving weekend the WBA 'super' and WBO lightweight and Ring Magazine titles belonging to Marquez will be up for grabs.  Katsidis claimed the WBO's interim lightweight title last September against Vincent Escobedo with a split decision win as Marquez was gearing up to taking on Floyd Mayweather, Jr. in the welterweight division.
Marquez' bout with Mayweather ended in disaster for the three division world champion, Marquez, with Floyd pitching a near shutout over the course of 12 rounds.  The size and skill of Mayweather made the efforts of Marquez seem almost pedestrian, and yes, we're talking about the same Marquez that gave Manny Pacquiao all he could handle for the 24 rounds they shared.
Things were looking great for Marquez prior to his super fight with Mayweather when he took on Juan "Baby Bull" Diaz to produce the divisions top dog. He had just come off of a thrilling 11th round TKO win over Joel Casamayor and looked to ride that momentum into claiming the lightweight championship.
Marquez started the fight with Diaz giving as good as he was getting,  but Marquez would come on strong in the middle and later rounds in a thrilling slugfest that would ultimately be considered the fight of the year for 2009.  With the win Marquez not only picked up the vacant WBA and WBO titles but he greatly distanced himself from the competition in the lightweight division resulting in him, along with a massive payday, seeking an opportunity with the then-retired Mayweather.
With nowhere to else to go following the Mayweather disappointment, Marquez once again set his sights on the lightweight division where he recently stepped back into the ring for a rematch with Diaz. Diaz fared just a bit better as he was able to withstand the superior output displayed by Marquez for the duration of the fight.  Marquez would wind up getting the nod from all three judges scoring the bout ringside. Prior to the bout the WBO declared that the winner must take on their interim champ in Katsidis.
"Michael Katsidis is a very aggressive fighter and that's the style I like to fight against the most," said Marquez.  "Styles make fights and my style and his together will give fans a great show in November, but I'm not about to give my titles away."
Unfortunately for Katisidis his lightweight ventures with Diaz and Casamayor, while extremely exciting, didn't pan out the way he had hoped they would.
In his 2008 fight with Casamayor, Katsidis found himself in trouble early as he was sent to the canvas in the very first round on two occasions. Katsidis rallied back to gain some momentum and return the favor by knocking Casmayor down the the sixth frame.  As the thrilling fight maintained its ebb and flow, Katisidis caught a break in terms of scoring when Casamayor was decucted a point in the ninth round for low blows.  However, the scorecards became academic in the end as Katsidis ran into a crushing left that put Katsidis down for the third time and not long afterwards referee Jon Schorle called a halt to the bout.  At the time of stoppage, Katsidis was ahead according to one of the judges while the other two favored Casamayor by a single point.
Following the first fight of his career he looked to right the ship against Diaz.  What was expected to be a wire to wire slugfest suprisingly started off at a tactical pace.  As expected, the true colors of Katisidis and Diaz came to light and the two warriors stood toe to toe and traded leather until the end of 12th round.  Diaz early surge was enough to hold off Katidis' late rally giving Diaz the win via split decision while Katsidis suffered back to back for the only time in his career.
Now Katsidis looks to carry the momentum he has produced in the four consecutive wins since the Diaz fight as he prepares for the biggest fight of his career against Marquez.
"What more can you say about Juan Manuel Marquez," said Katsidis.  "He's one of the best in the world pound-for-pound, and a future Hall of Famer.  I'm ready for the challenge though, and I don't think he'll be able to hold me off for 12 rounds.  I'm coming for those belts."
Katsidis vows to take those belts back to the land down under while Marquez has no doubt that the championship will return to Mexico City with him. With the skill and precision of Marquez paired with the non stop workrate of Katsidis will be giving boxing fans plenty to be thankful for just as they're coming out of their food comas from Thanksgiving Day.
No Comments