Kayode, Avalos and Hovhannisyan Come Up Big in ShoBox Triple-Header
Added on Jun 13, 2011 by Brian Blake in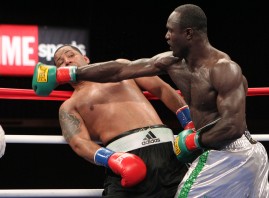 The Showtime Sports crew headed down to Santa Ynez, CA last Friday night to present what turned out to be an exciting night of fights from the Chumash Resort Casino which showcased impressive performances by Lateef "Power" Kayode and Chris "The Hitman" Avalos along with an upset win scored by Art "Lionheart" Hovhannisyan.
The Nigerian born and Hollywood based Kayode (17-0, 14 KOs) added the vacant NABA regional title to his NABF Cruiserweight belt following a dominant 10-round performance over former world title challenger Matt "Too Smooth" Godfrey of Providence, RI. Kayode, who is trained by the famed cornerman, Freddie Roach, lived up to his nickname as he landed massive shots to the head and body of Godfrey who had to pick himself up off of the canvas in the first, fifth and ninth rounds which ultimately ended up in the hands of the judges who turned in scorecards of 98-90, 97-90 and 98-89, all if favor of Kayode.
"I thought we would finish (Godfey) off earlier, but he took some good shots," Roach said. "It's OK we went the distance. (Kayode) needs rounds. Overall I thought it was a good performance."
Added Kayode, who won for the fifth time at Chumash and the third time in a row: "We said we were going to cut off the ring and that's what we did. People here know what I can do now. They've seen what I can do. Now it's on to bigger things."
Ringside analyst Steve Farhood echoed the sentiments of Kayode following his most recent win.
"Kayode is what he is," Farhood said. "Boxers are always going to give him trouble, but he graduated tonight. And now he can aim for bigger things than ShoBox, which is a compliment."
Godfrey (20-3, 14 KOs ) has now dropped two fights in a row including a failed world title attempt in which he was stopped by WBO Cruiserweight title holder Marco Huck in the fifth round of their 2010 bout.
In a high energy super bantamweight clash Chris Avalos (19-1, 15 KOs) of Lancaster, CA remained the aggressor throughout the 10 round affair and pressed the action to score a unanimous decision win over Hollywood's previously unbeaten prospect in Khabir Suleymanov. Avalos scored an early knockdown in the first stanza but was then decucted a point in the third round for hitting Suleymanov which he was already down. The three judges scored it 95-92, 96-91, and 97-90 while Farhood had it 98-91 for Avalos.
"He came at me with exactly what I expected," said Avalos, who bloodied Suleymanov's nose. "But we stuck with our game plan and it worked. I hurt him with my straight right several times."
What's next for Avalos, who suffered his first loss on ShoBox last August? "Whoever wants it," he said. "Whoever wants it."
"He didn't hurt me," Suleymanov (11-1, 5 KO's) said afterward. "I feel fine."
The night started off with a battle of undefeated lightweight prospects in Art Hovhannisyan (14-0, 8 KOs) of Glendale, CA as well as Albuquerque , New Mexico's Archie Ray Marquez (11-1, 1 NC, 7 KOs). Hovhannisyan set the trend of a night of first round knockdowns but would be the only fighter on the televised portion of the event to stop his opponent early which would come at the 1:03 mark of the sixth round when Marquez was on the receiving end of a devastating left hand giving Hovhannisyan his eighth KO in fourteen fights.
"I was just very confident I would win this fight," said Hovhannisyan, of Glendale , Calif. "He's good and he has speed but I never thought I'd lose. He's undefeated but so am I. I'm ready now for any fight. I'm ready for anyone."
Added Farhood: "Hovhannisyan fought a very smart fight tonight. He sucked Marquez in and he drew him right into his web."
No Comments