Marcos Maidana and Robert Guerrero Earn Interim Titles During "Action Heroes" PPV
Added on Apr 10, 2011 by Brian Blake in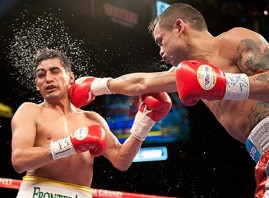 Boxing fans across the country made their way to Las Vegas on Saturday night for Golden Boy Promotions' stacked "Action Heroes" pay-per-view event at the MGM Grand Garden Arena. Erik "El Terrible" Morales continued his comeback as he took on Argentinian slugger Marcos Maidana for the WBA Jr. Welterweight title in the main event while Gilroy's Robert "The Ghost" Guerrero and Australia's Michael Katisidis battled for a pair of lightweight interim straps. Also on the card was boxing's most intriguing middleweight, James Kirkland as well as Paulie Malignaggi's shot at redemption against Jose Cotto.
Marcos Maidana MD12 Erik Morales (WBA Interim Jr. Welterweight Title)
Over 7,000 seats were filled as three division world champion Erik Morales and Marcos Maidana took to the ring. With the interim title on the line both men left it all in the ring in a much more competitive bout than one would have expected. Having spent his best years fighting no higher than the featherweight division, the battle tested 34 year old Morales proved that he still had some fight in him as he refused to let the younger Maidana walk right over him en route to another title bid.
It did, however, start off looking like the one sided affair that most experts anticipated. Within minutes of the opening bell Maidana closed up the right eye of the slower Morales. With just one eye and plenty of heart, Morales pressed on and kept himself in the fight for the first half of the bout. The tide began to change at the end of the fifth frame as Maidana was rocked with a combination from Morales that brought the crowd to their feet.
With some great back and forth action Morales began to close the points gap that Maidana had earned in the first half of the fight. Unfortunately for Morales it wouldn't be enough as the bout went to the scorecards. Judges Jerry Roth and Adalaide Byrd both scored the fight in favor of Maidana with a final tally of 116-112 while Richard Houck saw it a bit closer with a 114-114 draw giving Maidana the majority win and the WBA interim strap.
With the win Maidana puts himself in position for another shot at WBA champ Amir Khan. In defeat Morales showed glimpses of the brilliance that made him the superstar that he is. While it's unclear what the future hold for Morales, his performance on Saturday night certainly gave this comeback some legitimacy.
Robert Guerrero UD12 Michael Katisidis (WBA/WBO Interim Lightweight Titles)
In the co-main event at the MGM Grand Gilroy native Robert "The Ghost" Guerrero put on what might be the greatest performance of his career against the tough as nails and always thrilling Michael Katsidis. Saturday night marked the first time that Katsidis had ever been completely dominated by an opponent. Even in his losses by TKO he had made a fight of it. This wasn't the case against Guerrero. In fact, the only real trouble Guerrero found himself in came in the ninth round for low blows.
A noticeable size advantage helped Guerrero keep Katisidis at bay for the duration of the bout. The game Katsidis was on the receiving end of constant rights and lefts from Guerrero all night long. To make matters worse, Katsidis was deducted two points for low blows in the eighth frame which only further hurt him as the fight ended up going to the scorecards.
In the end the judges had it scored 117-108, 118-106 and 118-107 all in favor of Guerrero giving him the WBA and WBO interim lightweight titles. Following the bout Guerrero once again clamored for a bout with Juan Manuel Marquez and opponent that he's sought out for several years now.
Paulie Malignaggi UD10 Jose Cotto
It was just under five years ago that Paulie "Magic Man" Malignaggi was dealt the first loss of his career when he dropped a twelve round unanimous decision to Puerto Rican superstar Miguel Cotto for the WBO Jr. Welterweight crown. Now fighting as a full-fledged welterweight he was given the opportunity to secure a win over Jose Cotto, older brother of Miguel.
As is the case in most of his fights, Malignaggi used his speed and skill to pile up the points and avoid any major punishment from his opponent. Cotto wasn't able to duplicate the success his brother Miguel found against Malignaggi. Over the course of ten rounds Malignaggi found his way inside of Cotto to land combinations and then get out of harms way as Cotto would hurl a single shot in return.
The Brooklyn native earned the nod on all three judges scorecards with scores of 97-93 on one card with the other two identical at 99-91.
Nobuhiro Ishida TKO1 James Kirkland
Morales' performance in the main event came as a surprise to most, but it pales in comparison to the shock fight fans felt as Japan's Nobuhiro Ishida stopped highly touted middleweight contender James Kirkland in the first round of their bout.
After spending two years away from the ring while serving a prison sentence for carrying a weapon, James Kirkland seemed to have picked up exactly where he had left off, which was demolishing anyone who dared step into the ring with him. His March return lasted only 34 seconds as he KO'd Ahsandi Gibbs.
Less than two weeks later he KO'd Jhon Berrio in the second round of their scheduled eight rounder. A quick knockout on Saturday night wouldn't have been too far fetched, it just wasn't supposed to be Kirkland that was on the receiving end of it. Ishida shocked the boxing world as he came out and immediately floored Kirkland. Kirkland was able to rise up and battle on but it wouldn't last much longer as Ishida scored two more knockdowns prompting referee Joe Cortez to call a halt to the bout.
Official time of stoppage was 1:52.
No Comments