Money Mayweather Returns to Challenge Welterweight Champ Victor Ortiz in September
Added on Jun 08, 2011 by Brian Blake in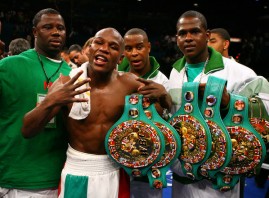 After almost a year and a half away from the ring one of the biggest attractions and greatest talents in Floyd Mayweather, Jr. announced that he will make his return to the squared circle on September 17 when he challenges the newly crowned "Vicious" Victor Ortiz for his WBC Welterweight Championship.
"There is no doubt that September 17 will again be this year's biggest night of boxing worldwide," said Richard Schaefer, CEO of Golden Boy Promotions. "When Floyd Mayweather fights, it is an event which brings fight fans, sports fans and the general public together to see this truly gifted athlete perform. Every year Floyd sets the bar and standard for most pay-per-view buys and this year will be no different. In Victor Ortiz, he is facing a young, strong and highly motivated world champion who knows that a win over the pound for pound champion will catapult him into superstardom. The stage is set and I can't wait for the showdown of the year."
In his last bout Mayweather survived a scare from the veteran Sugar Shane Mosley when the two met but would go on to cruise to a lopsided unanimous decision in their 2010 bout in Las Vegas. Now Floyd has his sights on another championship held by the younger heavy handed Ortiz.
"I am ready to return to the ring and give my fans a fantastic night of boxing by fighting the best out there and for me, that is Victor Ortiz," said Mayweather. "He is the current champion and an extremely talented fighter who showed amazing skills, and heart, in his last performance against Andre Berto. At this stage of my career, these are the challenges I look for, a young, strong, rising star looking to make his mark in boxing by beating me. Like the rest of my opponents, he is going to try to prove that he can beat me. I commend him for accepting the fight, but on September 17, Ortiz is just going to be another casualty, the 42nd one who tried and failed. Trust me, I will be ready."
Earlier this year the 24 year old Ortiz surprised the boxing world by scoring a unanimous decision win over then champion Andre Berto in a wild affair that had both fighters hit the deck on more than one occasion. It was just the kind of performance that Ortiz needed to get back into boxing's good graces after a disappointing loss to Marcos Maidana in 2009. Against Berto, Ortiz proved that he has the heart of the champion and now has the belt to prove it. And that's something he doesn't expect to change after his clash with Mayweather.
"I respect Mayweather because he has been a champion for many years and I know he will be ready, but so will I," said Ortiz. "I'm a strong fighter and I have worked really hard to silence my critics. I'm a world champion for a reason and I am not going to let go of my title any time soon. This is going to be a great fight, but I will remain a world champion for many years to come."
It's no secret that the world awaits an epic showdown between the two best fighters in the sport in Mayweather and Manny Pacquiao, but fact of the matter is that when Mayweather enters the ring people tune in. And Ortiz, one of the best welterweights in the world at the moment, is a very worthy opponent.
"When Floyd fights, everyone stops to watch and this is an exciting time for boxing as it always is when Floyd steps into the ring," said Leonard Ellerbe, CEO of Mayweather Promotions. "There is no better showman than Floyd and he backs up his legacy with amazing, one-of-a-kind skills. Victor Ortiz has shown us that he is a great fighter too and for the two of them to meet makes for a gigantic night for fans all over the world. It's always a thrill to see Floyd fight and it's even better when he faces the best out there such as a true champion like Ortiz. This is going to be a fight to remember. Sports fans have a lot to look forward to on September 17."
No Comments