Saul Alvarez and Matthew Hatton to Slug It Out for Vacant WBC Jr. Middleweight Title
Added on Feb 17, 2011 by Brian Blake in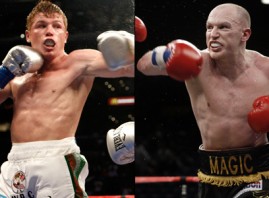 The much anticipated bout between Saul "Canelo" Alvarez and Manchester's Matthew "Magic" Hatton just got a bit more intriguing as it was recently announced that the two fighters would be squaring off with the WBC junior middleweight championship on the line. The title had recently become vacant as pound for pound best Manny Pacquiao opted to relinquish the title as he moves back down to the welterweight division to take on Sugar Shane Mosley for the WBO 147 lb. title.
As expected, both Alvarez and Hatton are excited to have their March 5 HBO Boxing After Dark televised showdown with more at stake than they had originally anticipated when they meet at the Honda Center in Anaheim, California.
"This is a great opportunity and an honor to fight for the WBC Super Welterweight World Title as I have a lot of respect for the WBC," said Alvarez. "I said that I wanted to fight for a world title in 2011 and now the opportunity has arrived."
"I have been waiting my entire career to fight for a world title and I can't put into words how excited I am," said Hatton. "I was already really motivated for this fight and this just adds to it. I am ready to bring the belt back with me to Manchester."
The 20 year old Alvarez is currently riding a 30 fight winning streak dating back to June of 2006 when he fought to a four round draw with fellow Mexican Jorge Juarez. Still unbeaten, Alvarez (35-0-1, 26 KOs) has gained a cult following in his homeland and has started to become a major star on internationally.
As he heads into his first bid at a major world championship, Alvarez has quickly been building up an impressive list of achievements as he has claimed numerous regional titles as a welterweigh. In terms of opposition he has stepped up in class since making his United States debut in May of last year when he TKO'd Jose Cotto (older brother of current world champion Miguel Cotto). After knocking out Luciano Leonel Cuello for the vacant WBC Junior Middleweight Silver Title he went on to register wins over former world champions Carlos Baldomir in September and Lovemore N'Dou this past December.
Alvarez' opponent in Hatton is undoubtedly looking at the toughest and most important fight of his career and, if successful, could very well emerge from the large shadow cast by his older brother and former world champion Ricky Hatton. The 29 year old Englishman holds an official record of 41-4-2 with 16 of those wins coming by way of stoppage. Just like Alvarez, Hatton has seen his share of regional titles in the welterweight division. The ever improving Hatton is in the midst of a four fight winning streak dating back to November of 2009 when he fought to a 12 round draw against shared opponent Lovemore N'dou for the IBO welterweight crown.
While this is the first time that Alvarez and Hatton will step into the ring to vie for a world title, the show's promoter is no stranger to having the famed WBC title around his waist.
"Fighting for a major world championship belt for the first time is the moment every fighter dreams of and when that belt is on the line, that's when you see a man at his best," said Oscar de la Hoya, President of Golden Boy Promotions. "I thank the WBC for rewarding Alvarez and Hatton for their hard work and I know that they will leave it all in the ring on March 5."
Indeed, it's a moment that every professional fighter dreams of as he puts in countless rounds of sparring. It's what keeps them running mile after grueling mile. Undoubtedly, both Alvarez and Hatton will, just as De La Hoya stated, leave it all in the ring.
But only one of them will take the coveted WBC World Championship with them when its all said and done.
No Comments