ShoBox: The New Generation Weigh In Results and Quotes (6/11/11)
Added on Jun 10, 2011 by Brian Blake in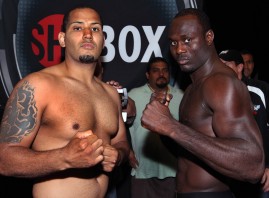 It's June so no better time than Friday for Graduation Day for three talented ShoBox: The New Generation alums returning for a Friday night tripleheader live on Showtime.
Lateef Kayode (199.5 pounds), Chris Avalos (120 pounds) and Archie Ray Marquez (133 pounds) all hit their contracted weights just a day before they attempt to move one step closer from prospect to contender.
In the main event, the power-punching Freddie Roach-trained Kayode (16-0, 14 KOs) will risk his unbeaten mark against the more experienced Matt "Too Smooth" Godfrey (20-2, 14 KOs) of Providence, R.I., in a 10-round cruiserweight bout at Chumash Resort Casino in Santa Ynez, Calif. Godfrey weighed in at 200 pounds.
Other bouts on a Gary Shaw Productions-promoted event include Avalos (18-1, 15 KOs) of Lancaster, Calif., facing undefeated Khabir "Crazy Russian" Suleymanov (11-0, 5 KOs) of Los Angeles by way of Chelybinsk, Russia, in a 10-round super bantamweight match and Marquez (12-0, 8 KOs), of Albuquerque, N.M., and Armenian-born Art "Lionheart" Hovhannisyan (13-0, 7 KOs), of Glendale, Calif., clash in an eight-round battle of unbeaten lightweights. Like their opponents Avalos and Marquez, Suleymanov and Hovhannisyan weighed in at 120 and 133 pounds, respectively.
The telecast will originate from the Chumash Casino Resort in Santa Ynez , Calif. , and will be promoted by Gary Shaw Productions.
What the fighters had to say on Thursday:
LATEEF KAYODE:
"We didn't want to take a step back. We have a lot to prove after my last fight. I just wasn't feeling right. You will see a different fighter on Friday night.
"We've been sparring with a lot of southpaws. We'll be ready for whatever he throws at us. We could have taken another tune-up, but for what? To drop a guy in the second round? We get more out of sparring at Wild Card.
"I've been sparring with Chris Arreola and feel great. This is my moment to go from prospect to contender
"We're in the perfect situation. I hope Godfrey brings it because we need that kind of fight. I think he will. I didn't see any tape on (Nicholas Iannuzzi) but I have of Godfrey. I have more information on this guy than on any fight I've ever had."
MATT GODFREY:
"I fought for a world title and came up short so in order to get back to that level you have to beat someone who is one step away from that as well. So this is big for me.
"Styles are so much different in Europe . They don't appreciate boxing. Here you box around a guy for three rounds and the crowd goes crazy. Over there, they're all straight-up fighters. They don't appreciate guys just going out and boxing.
"I think Lateef's team is a little bit crazy because they think they have more than what they have. For me this is perfect. They've been on SHOWTIME a couple times, he has a great record and he has a good punch and that makes for good TV and what the fans want to see, but experience wise I'm just light years ahead. It's going to be great for me to exploit that on this network, a great network.
"They're going by the result of my last fight but I fought the best guy in the division (Marco Huck). They're thinking they will be able to duplicate what he was able to do but he's just not at that level and it's just not going to happen.
"They're thinking they are going to capitalize on that loss and that I'm bringing that last fight into this one and they're dead wrong.
"I've hit the mitts with Freddie (Roach) before but that was a long time ago. He's so busy that I don't' think he'd even remember it.
"If I win tomorrow night I might just end up in Europe again.
"I'm not insulted that (Kayode) picked me to fight. It's a business for him. They have to get a return on their investment. They have to fight the best to get to where they want to be."
CHRIS AVALOS:
"My loss to Chris Martin is done and over with. It's a closed chapter. So we can now move on. I learned from it.
"I'm not going to look for the knockout but if it's there I'll take it.
"I've actually sparred with (Suleymanov) when I was 18. I've watched him spar at Wild Card."
KHABIR SULEYMANOV:
"I've seen (Avalos) fight. I know this a fight I can win. He's a good boxer and a tough kid. But he can't stay 10 rounds with me.
"We're not just going to go to the body. We're going to go everywhere.
"Some people compare me to Vic (Darchinyan). Not so much his style but his aggressiveness and his power.
"I'll knock him out in around the fourth round. That's my prediction."
ARCHIE RAY MARQUEZ:
"The first time I was on ShoBox against (Derrick) Campos I was a little nervous because it was in New Mexico and I just wasn't aggressive. I showed what I could do against (Juan) Santiago .
"(Art) is a pretty tough guy. From what I hear he's slow. You'll see a lot of different looks from me.
"I have no issues injury-wise. I'm only 22 and can see myself knocking on my door and can be a Top 10 contender after this fight.
"I've been working most on my defense. I've gotten hit on stupid shots and punches I shouldn't have got hit with.
"I like to change it up. I don't like to do the same things over and over. Against Santiago I used my angles and put a lot of pressure on him.
"Winning comes first. It's important to be exciting and I can be."
ART HOVHANNISYAN:
"I don't watch tape. I don't need that. I don't like it. I will stop him with pressure. I can drive him back and I will come forward. I can box and I can fight. It's as simple as that.
"After I win I don't think this should be called an upset.
"I think (Archie Ray) is better than the guys I've fought but he doesn't have that many skills. When he goes up against someone like me who can box and move and punch then it's going to be a quick night of work."
No Comments