Showtime Announce Team Weighs In on "Relentless: Cotto vs. Mayorga"
Added on Mar 09, 2011 by Brian Blake in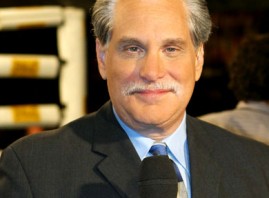 This Saturday night WBA junior middleweight champion Miguel Cotto of Puerto Rico defends his strap against Nicaragua's Ricardo Mayorga at the MGM Grand Garden Arena in Las Vegas, Nevada. The 12 round clash will be televised on Showtime Pay-Per-View with Steve Albert, Al Bernstein, and former champ Antonio Tarver calling the action ringside while Jim Gray handles his normal duties backstage. Recently the Showtime Championship Boxing crew shared their keys to victory.
Steve Albert, younger brother of famed broadcaster Marv Albert, has been calling fights for Showtime for the past 17 years and his work there has helped him become an esteemed member of the World Boxing Hall of Fame. Here are his thoughts on Saturdays' championship tilt and what both Cotto and Mayorga can do to walk away with the WBA crown:
"Cotto needs to get inside Mayorga's wide shots with compact, accurate punches," Albert said. "Cotto is one of the best short-distance punchers in the sport. He needs to jab and move and blast that left hook, which is still one of the best in the business. He should use the entire arsenal. Fans want to see if that right hand is effective since the shoulder surgery. And make sure he has a Plan B, C and D.
"Mayorga, don't smoke between rounds! Seriously, he's physically bigger so he should impose his will and do what he always does, keep punching from all angles. He needs to keep Cotto guessing and make it wild."
In his 17 years with Showtime, Albert has seen many colleagues ringside come and go, but for the past 8 years he's found a winning combo as he has been teamed up with fellow hall of fame broadcaster Al Berstein. Bernstein got his start as a journalist in the Chicago area before setting down the typewriter and picking up the microphone. He spent several years as ESPN's main boxing correspondent before heading to his current home with Showtime Championship Boxing. Bernstein echoed the sentiments of his partner Steve.
"Cotto needs to get inside the wide punches and work the double left hook," Bernstein said. "He should go to the body – Mayorga is 37-years-old and a smoker.
"On the other hand, Mayorga needs to straighten out the right because wide ones won't land. He should attack from the beginning because Cotto has been hurt by smaller fighters. Finally, he should make it a street fight – rough him up."
The newest memeber of the crew is former light heavyweight champion and still active pugilist, Antonio "Magic Man" Tarver. Tarver shot to stardom following his 2004 rematch with Roy Jones, Jr. when he stunned the world with his second round TKO victory. Capitilizing on his fame, Tarver went on to partake in several high profile fights and even graced the silver screen opposite Sylvester Stallone in the final installment of the Rocky franchise. He joined the Showtime crew in 2008. Here's his take on what the challenger needs to do to dethrone the champion:
"It's been a while since Mayorga has been in a significant fight after having some tough losses. For Mayorga, it's the opportunity of a lifetime," said Tarver, who is in the process of transitioning from the ring to ringside, "It could be his final chance to get back into the mix in the weight division so I see him being focused.
"He's going to have to use his erratic and unpredictable style to win and he needs to fight really hard. When Cotto is forced to fight out of his rhythm he has some problems, so it will be important for Mayorga to press and not let Cotto time his punches. No rhythm, just wow! Be aggressive and fight hard. Mayorga has to make it nasty."
On the flip side, here are his keys to victory for Cotto:
"Cotto needs to keep the pace, continue to fight his fight, time his punches and move," Tarver said. "As long as he can do that without being hurt he'll be OK. Cotto needs to get up under those wild shots — that's Mayorga's style and Cotto can't fall prey to that.
"I'm curious to see how much wear and tear Cotto has from his past fights and how that will affect him."
Finally, ringside reporter and Emmy Award Winner Jim Gray weighs offered up some words of advice for the defending champion. along with the challenger.
"Cotto needs it more and is going to be able to take advantage of Mayorga, who has had long layoffs," Gray said. "While Mayorga is colorful with his taunting and his words, the older you get the harder it is to back up all that commentary.
"I believe that Cotto will be much faster and should be able to avoid getting hit. Emanuel Steward will not let Cotto veer off course. Mayorga is very crafty and will have to pace himself and I believe he will have to pick his spots and try and do some damage if he can find an opening. He will have to be very patient."
SportsBettingWorld.com will return with more Relentless: Cotto vs. Mayorga coverage throughout the week including Friday's full weigh in report live from Las Vegas.
No Comments