Showtime Holds Press Conference For Upcoming Bantamweight Tournament
Added on Oct 04, 2010 by Brian Blake in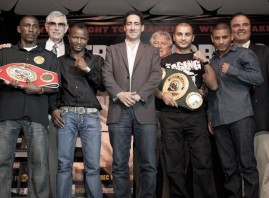 The Conga Room at LA Live in Los Angeles was the site for the recent press conference officially announcing Showtime's upcoming "Bantamweight Tournament: Winner Takes All" event set to kick off on December 11 from Irapuato, Mexico.
Showtime Sports Executive Vice President and General Manager, Ken Hershman, was on hand to announce the four fighters in Joseph Agbeko, Vic Darchinyan, Abner Mares, and Yonnhy Perez who will be participating in this historic event as well as the promoters who represent them.
The opening round will feature Vic Darchinyan as he looks to defend his IBO title against the undefeated Abner Mares while Yonnhy Perez' IBF strap is on the line when he takes on former champ Joseph Agbeko.
Here's what TV exec Ken Hershman had to say regarding the networks upcoming tournament:
"I want to thank the press for coming out and the fighters and promoters for participating in this amazing series of fights. Our promise to our subscribers has always been very simple and that's to put on the best fights as possible and let the fans enjoy it. I think we have four of the top 118-pounders in the world and I don't think there's a bad matchup in the bunch.
"I believe the sport of boxing is a tremendous sport by itself, but I think when you overlay tournament style rules to this sport it becomes that much more thrilling. Obviously, for our subscribers, keeping it new, keeping it fresh is what we're after. I want to thank the promoters. This was really a very cooperative effort."
Richard Schaefer, CEO of Golden Boy Promotions who represents Mares, shared the optimism of Hershman. "This really is an amazing lineup. It's natural for Mexico to host the opening round of this tournament. As we all know, Mexico has a rich and deep history with bantamweights." He added, "these four fighters will deliver what I know will be the best four fights.''
Marez (20-0-1, 13 KOs) looks to keep his unbeaten streak intact as he prepares for one of the biggest tasks of his career in the hard-hitting Darchinyan who will provide him with his second chance to make good on a world title opportunity.
"It's a privilege to fight Vic Darchinyan. He's a well-known fighter, a big name. He's beaten a lot of good fighters. All around I think he's a good fighter but I don't think of myself as a bad fighter. I think I've got the perfect style for him. I think it's going to be a tough fight for both of us."
Mares came up just a bit short in his first bid at a championship belt when he fought to a disappointing majority loss to current IBF king Yohnny Perez.
"I was ready. I said I was ready for that fight and I proved it going the 12 rounds. I still haven't got over it because I have people telling me, 'you won the fight.' (But) it is what it is.''
Perez (20-0-1, 14 KOs) is no stranger to fighting on Showtime and looks forward to emerging as the world's top bantamweight when the dust settles.
"I can't express how thankful I am to Showtime for putting on this tournament and even putting me on Shobox when I first came up from Colombia. I'm very thankful. After everything is done I hope I continue to have their support and I'll always be ready to fight and will always give a great fight for Showtime." The IBF champ continued, "I'm concentrating on my fight. I don't consider myself the favorite. I know I'm the world champion but I go into every fight thinking I'm the underdog. I'm going to prepare for this fight and come out victorious.''
Gary Shaw, who represents the Australian based Armenian in Darchinyan, is the only promoter to be involved with this tournament as well the Showtime's Super Six World Boxing Classic. Despite the recent hurdles of the Super Six, Shaw is looking forward to taking part in this event featuring the little big men.
"Let me thank Ken Hershman. Ken, even with the problems we've had with the Super Six, saw the value in tournaments. I think tournaments is the way boxing is going to have to go. It has the interest of the fans. It has the interest of the fighters and once and for all you'll know who the best really is.
"I want to tell you how you confident I am in Vic Darchinyan. This fight is in Mexico, but I told Vic 'don't worry, you are the best in the tournament.' He said, "You really believe that?' I said, 'I believe it so much I called up Jose Sulaiman and we're going to have a Mexican referee, we're going to have three Mexican judges, a Mexican timekeeper and I know you'll win."
No doubt grateful for the optimism of his promoter, Darchinyan (35-2-1, 27 KOs) also believes that his style lends well to the boxing rich country of Mexico. The always confident Darchinyan looks forward most to being able to take on the best that the division has to offer.
"I'm happy I'm fighting in Mexico. My style is a Mexican style, guys are coming to fight, coming for a show, so that's what I'm going to do. Mexicans love my style. I am not against them, I am not against anyone. I'm just against my opponent. It just happens Mexicans have been my opponents, which is good. Mexicans are good fighters.
"I'm going to be prepared for anything. No fear. I moved up to challenge other champions. The super tournament connects all the dots. I don't want to defend my titles and fight No. 10, No. 15. If I fight, I collect all belts. The point is not who you can beat, it's what champions you can beat. I want to prove myself and I want to prove to everyone I'm the best. Why worry?"
Last to take the dais was Agbeko (27-2, 22 KOs), former IBF king and Darchinyan conqueror. Agbeko is coming off of a loss to Perez and is using the tournament to mark his return in a big way, not just for himself but for his homeland as well.
"This is going to be a very nice tournament. The opportunity to meet the best bantamweights in the world is going to give me a very good platform. This tournament is the return of "King Kong.'' It's giving me the opportunity to get back in the ring. My trainer and I are coming together to make me the best bantamweight."
"Perez is a great fighter. He's got a brave heart. I'm going to come very well prepared. I'm not thinking about Vic, I'm not thinking about Mares, I'm thinking about Perez. The winner will meet me." Agbeko further stated, "I'm very motivated to get back the belt because Ghana has no champion right now. They all have supported me and want me to win the title.''
The winners of the first stage in December will then be scheduled to meet sometime in 2011 with the runners-up participating in a consolation bout in a co-feature event.
2 Comments