WBC Welterweight Champion Andre Berto Defends Against Victor Ortiz in April
Added on Mar 21, 2011 by Brian Blake in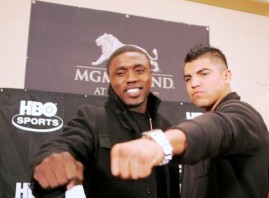 On Saturday April 16, live on HBO Championship Boxing, WBC Welterweight champion Andre Berto puts his title on the line as he is set to face the once very promising and more recently questionable "Vicious" Victor Ortiz. It's not to say that Ortiz can't walk away from the MGM Grand Theater in the Foxwoods Casino with the coveted title, but it'd be quite the suprise.
Many observers see this as Ortiz' promoter in Golden Boy Promotions opportunity to cash out on the former can't miss prospect. While Berto isn't the most tested of champions by any means, he should be able to utilize his amazingly fast hands to keep the challenger at bay en route to a successful title defense.
That may very well be the case, or on the other hand Ortiz just might rise to the occasion and dethrone the virtually untested world champion in Berto.
Either way, with the speed and skill of Berto along with the ferocious attack presented by Ortiz, fight fans could be in for one helluva night.
"There isn't a more compelling welterweight match-up than Berto vs. Ortiz," said Lou DiBella, President of DiBella Entertainment, the promoter of the show and Berto. "We will pack the undercard with some of the biggest names in boxing from New England and the rest of the world. I couldn't be happier returning April 16 to one of the premiere venues on the East Coast for another great night of boxing at the MGM Grand at Foxwoods."
The co-promoter of the upcoming event turned his attention to the main event attraction of the evening.
"This is a very risky fight for Victor, but I know he's going to be ready for Berto on April 16," said Oscar de la Hoya, President of Golden Boy Promotions, Ortiz's promoter. "The best need to fight the best and that's what we have with Berto vs. Ortiz. I'm really looking forward to seeing these guys face off."
The undefeated Berto (27-0, 21 KOs) has made five consecutive defenses of his title since claiming the vacant strap with seventh round TKO win over Miguel Angel Rodriguez in June of 2008. His last outing came just a few days after Thanksgiving when he made quick work of Freddie Hernandez ultimately needing just over two minutes to dispose of the challenger.
"This fight is exactly what boxing needs right now," Berto commented. "Two young fighters in their primes going head-to-head. I'm excited and I know this is going to be a tremendous fight. I look forward to fighting in the MGM Grand Theater at Foxwoods. I heard it's a great facility and we plan to pack it and put on a great show. This is going to be a great fight that no one should miss."
It wasn't long ago that his opponent, Victor Ortiz, was widely viewed as a can't miss future star. His smile would light up press conferences and his fists would light up his opponents. All seemed to be going in his favor until he ran into the hard hitting Marcos Rene Maidana. It was an exciting fight with back and forth action that had both man eating leather and tasting the canvas and was ultimately called off on the advice of the ringside physician as he deemed Ortiz unable to continue due to a cut over his right eye.
It wasn't the fight itself that left a bitter taste in the mouths of the fans regarding Ortiz (28-2-2, 22 KOs), it was actually his post fight comments that left many questioning whether or not he had what it takes to be a future champion in this brutal sport.
Since then he's put together four wins along with his most recent outing which ended up a draw against fellow contender Lamont Peterson back in December.
When asked to comment on his upcoming bout with Berto, the usually talkative Ortiz simply said "I'm going to knock him out."
Check back in to SportsBettingWorld.com's boxing section for more on the event billed as "East-West Showdown: Berto vs. Ortiz" as it develops, including highlights from their recent media teleconference which will be posted later in the day.
No Comments