I'll Have Another Getting Ready For Run At Triple Crown
Added on Jun 07, 2012 by Jack Thurman in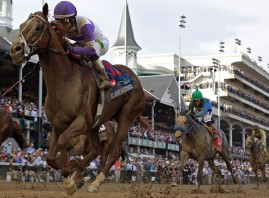 The Belmont Stakes is set for Saturday, the field has been finalized and post positions assigned and the opening betting odds have been released. The only thing that remains is for the race to be run and all eyes will be on I'll Have Another. Having already won the Kentucky Derby and Belmont Stakes, I'll Have Another is 1 1/2 mile away from becoming only the 12th horse in history to win the Triple Crown.
It won't necessarily be an easy trip and I'll Have Another's morning line betting odds of 4-5 are more reflective of his popularity among the general public than the expectation of a dominating run. The first thing that I'll Have Another will have to deal with is the #11 starting position. Trainer Doug O'Neill suggested that he was happy with this assignment, asserting that it'll be perfect for jockey Mario Guttierez to watch the pace of the race develop and decide when to 'send' his hard closing horse. History hasn't been quite so kind to #11 starters–this is the 144th running of the race and there have only been two winners to start from this outside position.
There's also some solid competition that I'll Have Another will face. His Kentucky Derby/Preakness rival Bodemeister won't be in the lineup but that doesn't mean that I'll Have Another will have an easy field of opponents. His adversaries include Union Rags, a horse that is considered highly dangerous despite a disappointing Kentucky Derby finish which was due more to a bad ride than anything else. Kentucky Derby third place finisher Dullahan is also going to be a factor and is, in fact, a 5-1 second choice in the wagering behind I'll Have Another. Perhaps the most intriguing entry is the Bob Baffert trained Paynter. Baffert's involvement alone generates respect and even the most discerning horse experts suggest that the lightly raced Paynter is peaking at the right time and could be poised for a monumental upset. This will be his graded stakes debut but despite that is priced at 8/1.
For more information about the Belmont Stakes including the history of the race and a comprehensive breakdown of all 12 contenders visit www.belmontstakes.org.
No Comments