Questions Abound In 2013 Kentucky Derby
Added on May 02, 2013 by Jack Thurman in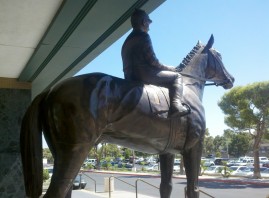 Perhaps the most fascinating thing about horse racing–or more specifically the betting component of the sport–is its complexity. To be successful a handicapper has to deal with countless interlocking variables and other 'moving parts'. Pedigree, past performance, class of opposition, workouts, jockeys and weather are just a few of these. Once a handicapper understands how each individual horse will perform on a specific track he has to figure out how these horses will compete against each other–to do that the horse racing expert tries to envision the pace and style of the race. It's part science, part experience, and part guesswork.
The 2013 Kentucky Derby is no exception–there are serious questions about a number of the horses in the field that could determine if they're contending for the victory or bringing up the rear. Longshots are especially prone to these questions since 'on paper' they're often overmatched relative to the rest of the field but also provide signs of hope that could make them massive wagering values. Black Onyx, for example, looks like a pedestrian 50/1 shot except he's drawn attention due to an impressive workout at Churchill Downs last week. The Todd Pletcher trained Revolutionary has much in his pedigree to suggest that he'll be very good at the Kentucky Derby distance of a mile and a quarter but little 'real world' experience to validate that.
Head scratching questions aren't just reserved for the underdogs–even the favored horses at the top of the tote board have their share of mystery. The Doug O'Neill trained Goldencents has become something of a 'trendy' choice following a 102 Beyer in the Santa Anita Derby. Contrarians are more concerned with the dubious level of competition he faced in that race and suggest he could be something of a mirage. Even the top choice in futures betting for much of the early part of the prep season–Verazzano–isn't immune from scrutiny. Much of his surrounds what some consider a 'disappointing' margin of victory in the Wood Memorial and what it means for the Derby. His backers consider it a positive saying that Verazzano 'did what he had to do' to beat out the field in a race that didn't have a favorable pace. Detractors make the case that he simply wasn't as good as advertised and had trouble putting away a field that he should have dominated.
If you're looking to do 2013 Kentucky Derby betting you'll have to make you're own decisions about these, and countless other questions. Good luck!
No Comments