Lakers Replace Dwight Howard With Chris Kaman
Added on Jul 08, 2013 by Scott in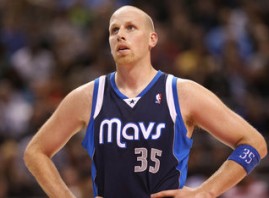 The ripple effects of Dwight Howard bolting to Houston are being felt by several teams throughout the NBA, most notably his former team, the Lakers. The pleas of an injured and attitude challenged Kobe Bryant weren't enough to convince Howard to call L.A. home for the next few years. So, "Superman" took to the skies and flew his talents to Space City. But have no fear Laker fans, because a new center has arrived to save the day.
His name is Chris Kaman. The same Chris Kaman who once played for that other team in the City of Angels, and spent portions of last season planted on the Dallas Mavericks bench. Hey, it could be worse. They could've brought back Andrew Bynum's crushed glass knee caps and lackadaisical work habits. At least Kaman is one of those "effort" guys who won't refuse to practice because he's too busy dancing or bowling.
At this point, the Lakers have little choice but to take whatever they can get. No high profile free agents appear interested in 1) waiting for Kobe's ruptured Achilles to heal, and 2) waiting for him to pass them the ball on game nights once he returns. After all, until he retires, it's the Kobe Show, and everyone still looking for a job knows this to be true.
The Lakers will likely roll out a starting backcourt of 39-year-old Steve Nash and 33-year-old Steve Blake this fall. Pau Gasol is still on the roster (for now), but without Bryant and Howard to draw attention, he will find the number of open looks few and far between. Kaman has never been a first-rate offensive option, especially since is lone All-Star nod in 2010.
Is this the end of the Lakers days as legit contender? In a crowded Western Conference packed with emerging talent, the answer seems to be yes. A 100% healthy Bryant can only do so much, let alone a Bryant who may or may not miss a large chunk of the upcoming season. Needless to say, the Laker haters have a lot to cheer about. No offense to Chris Kaman.
No Comments