NBA's Moved Improved Teams
Added on Jul 10, 2013 by Scott in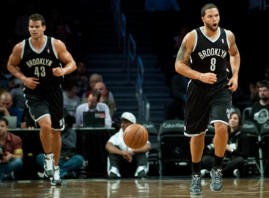 With the 2013 draft in the books and free agency winding down, most NBA teams are finished rebuilding and retooling for the upcoming season. It's still early in the summer and much can happen between now and October, but that doesn't mean we can't evaluate which franchises appear to have improved the most during the last few weeks. The following five took huge steps toward securing success in both the immediate and distant future.
Brooklyn Nets – When you add a trio of proven veterans with championships rings, you've done yourself a great service, no matter how old said veterans might be. Kevin Garnett, Paul Pierce and Jason Terry all have something left in the tank, and combined with Deron Williams, Brook Lopez and Joe Johnson, the Nets are poised to make a serious run in the East. Of all the major acquisitions, this one is the safest. In addition, rookie Mason Plumlee adds size and energy to an already deep frontcourt.
Houston Rockets – Obviously when you add a player the caliber of Dwight Howard, you're going to in position to challenge the league's best. Howard isn't without warts, but he gives James Harden and Chandler Parsons an athletic space eater who will free up perimeter looks. If Kevin McHale can figure out a way for Howard and Omer Asik to coexist in the paint, the Rockets could be he top seed in a crowded Western Conference.
Golden State Warriors – Lost out on Superman, but dumped a bunch of salary and added one of the game's top stoppers in Andre Iguodala. They still lack toughness and bulk up front, but the trio of Steph Curry, Klay Thompson and Harrison Barnes, plus a healthy David Lee, will be formidable on most game nights. Iggy gives them a versatile and savvy vet who can shadow the likes of Kevin Durant and James Harden.
Philadelphia 76ers – Will they be atrocious in 2013-14? Yes. But they would've been atrocious with or without Jrue Holiday. Instead of standing pat and trying to build around a quality but not elite point guard, new GM Sam Hinkie engineered a series of transactions that could potentially revive a moribund franchise that has been floundering since Allen Iverson left town. Nerlens Noel, Michael Carter-Williams and a near certain pair of lottery picks in next year's loaded draft heralds a long overdue youth movement in the City of Brotherly Love.
Detroit Pistons – The quartet of Greg Monroe, Andre Drummond, Brandon Knight and Kentavious Caldwell-Pope is blessed with a wealth of talent, but they must learn how to play alongside one another for the Pistons to climb from the Eastern Conference basement. Free agent Josh Smith brings scoring and defense, but he isn't a natural small forward. If they can add another skilled shooter to the picture, they will be a trendy pick to make the playoffs next season.
No Comments