Thunder Standing Pat
Added on Jul 12, 2013 by Scott in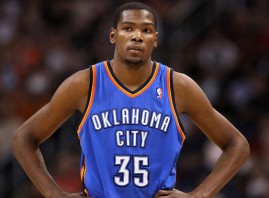 While the Rockets, Warriors and Clippers all utilized the draft and free agency to improve their chances of winning the Western Conference in 2014, the reigning number one seeds, the Oklahoma City Thunder, have remained strangely quiet. Besides taking another swing at landing a legit starting center by drafting Steven Adams 12th overall, the OKC brain trust is relying on a roster packed with unproven talent to pick up the slack next season.
Providing Russell Westbrook recovers fully from a torn meniscus, the Thunder could be fine going ahead. His absence in the playoffs proved costly. As good as Kevin Durant is, it's impossible in today's NBA to win a title as a one-man gang. Westbrook has his faults (often out of control), but his value cannot be underestimated.
Ridding themselves of Kevin Martin has to be viewed as addition by subtraction. Martin never adequately replaced James Harden as a bench sniper, especially in the playoffs, and his exit to Minnesota clears a path for second year guard Jeremy Lamb to become part of the rotation. Lamb didn't deliver as a rookie, but the front office appears confident he will develop sooner rather than later.
Other young players like Perry Jones, DeAndre Liggins and Andre Roberson will likely be asked to contribute if they're willing and able. The Thunder will probably add a couple veterans between now and October, but with most of the high profile free agents off the market, the roster is close to being a finished product.
Reggie Jackson proved he could be an offensive weapon in the postseason, so it wouldn't be surprising to see his minutes increase. And with few other reliable options available, Jackson could assume the sixth man role previously occupied by Martin.
By standing pat, the team may be pursuing the wisest course of action. The 2014 draft and free agent pool is expected to be incredibly deep. Rather than reach for a quick fix solution, Oklahoma City is preaching patience. It might not please the fans and pundits, but it's hard to argue with a franchise that's won three consecutive Northwest Division titles.
No Comments