2013 NFL Preview: Detroit Lions
Added on Aug 28, 2013 by Scott in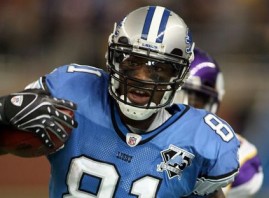 Whatever momentum the Detroit Lions gained during their 2011 playoff run came to a screeching halt in 2012 after they plummeted from 10-6 to 4-12. Matthew Stafford regressed, the running game stalled, and the defense continued to be porous. Head coach Jim Schwartz is firmly on the hot seat, so another flop likely won't be tolerated by the powers that be. The talent is there, but a lack of discipline and an inability to come through in the clutch is a hindrance. What can we expect from the 2013 Lions? Here's a look.
Detroit Lions – The addition of Reggie Bush adds another flashy weapon to an already potent attack that boasts the most physically freakish wide receiver to ever play the game in Calvin Johnson. No offense to Nate Burleson, but there still isn't a reliable option opposite Megatron. Ryan Broyles is skilled, but he's coming off an ACL tear and appears hesitant thus far in training camp. The defense remains a mess, especially in the secondary, where scrapheap cornerback Rashean Mathis has been penciled in as a starter days after signing a contract.
Player in the spotlight: Matthew Stafford – Accuracy. That's Stafford's biggest flaw. He's been spoiled by Calvin's wingspan, because he frequently botches easy throws to other pass catchers. Despite not missing a game, Stafford managed to toss 21 fewer touchdowns in '12 than he did in '11. His completion percentage also dropped three points and the interceptions increased by one. If he can complete over 60% of his throws and reach 30 touchdowns, the Lions will be tough to stop.
Trouble spot: Secondary – The front office just can't find competent upgrades at the back end of their defense. Chris Houston is adequate, but digging up the aforementioned Mathis in late August is a bad sign. Louis Delmas has been sidelined 13 games in the last two years. Rookie Darius Slay could be an answer, but he has yet to separate himself from a group of less than stellar defensive backs. The offense is not built to grind out leads by running, so holding leads with a ragtag secondary could spell disaster.
Fearless forecast – The schedule draws the defense heavy AFC North and the offense heavy NFC East. Combine that with an improved division and the Lions will be fortunate to be better than 6-10.
No Comments