2013 NFL Preview: Green Bay Packers
Added on Aug 29, 2013 by Scott in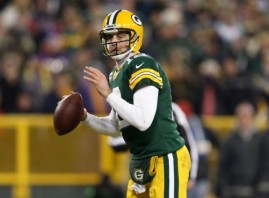 The Green Bay Packers have won 47 games during the last four years. Aaron Rodgers has been named Super Bowl MVP and league MVP during the last four years. Clay Matthews has totaled 42.5 sacks and won NFC Defensive Player of the Year during the last four years. Entering 2013, the Packers are once again poised to make another legit run at the Lombardi Trophy. But just how good will they actually be? Let's take a look.
Green Bay Packers – As long as Rodgers is healthy, Mike McCarthy should feel comfortable in knowing that he's fielding a contender. Greg Jennings is gone, but Randall Cobb has the look of an emerging star. Second-round pick Eddie Lacy is expected to energize a floundering ground game. That said, the offensive line is once again shaky, and the defense has holes that will be exploited by potent offenses.
Player in the spotlight: Eddie Lacy – DuJuan Harris is done for the year. James Starks is, well, James Starks. Alex Green is just a guy. Johnathan Franklin is struggling to adapt to the professional game. That leaves former Crimson Tide bruiser Eddie Lacy to carry the load at running back. Problem is, Lacy's punishing style makes him conducive to frequent injuries. On the plus side, Lacy is tough as nails. He might not last the season getting 25 carries, but in a pass happy attack, he probably won't have to.
Trouble spot: Offensive line – Starting right tackle Bryan Bulaga tore an ACL in August. Jeff Saturday retired. Left tackle Marshall Newhouse shifts to right tackle. 2013 fourth-round pick David Bakhtiari slides to left tackle. Journeyman Evan Dietrich-Smith is the new center. More bad news: the 2012 unit allowed 51 sacks, and could yield more in 2013. At least guards Josh Sitton and T.J. Lang are back. Rodgers is durable, but all it takes is one crushing hit to derail the Super Bowl train.
Fearless forecast – Rodgers by himself is good for six wins. However, the schedule is a minefield: 49ers, Falcons, the AFC North and NFC East. It wouldn't be at all surprising to see an 8-8 dip, but 10-6 sounds more appropriate.
No Comments