2013 NFL Preview: Minnesota Vikings
Added on Aug 30, 2013 by Scott in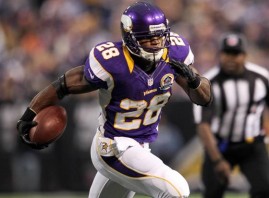 Adrian Peterson's uncanny return from reconstructive knee surgery after only nine months of rehab defined the 2012 Minnesota Vikings. Peterson came within eight yards of Eric Dickerson's single-season rushing record of 2105 yards. More importantly, he willed the Vikes into a surprising playoff berth. Despite the success, the front office traded away highly skilled but injury prone wide receiver Percy Harvin to fellow conference contender Seattle in exchange for a 2013 first-round draft pick. On a team lacking legit playmakers not named AP, Harvin's departure leaves a void in the passing attack that free agent Greg Jennings an rookie Cordarrelle Patterson hope to fill. What's in store for this year's Purple and Gold? Here's a preview.
Minnesota Vikings – The offense continues to lean on Peterson's superhero talent, but even he can't carry a team to Super Bowl glory by himself. Greg Jennings needs to regain his 2010 form and stay healthy or Christian Ponder will struggle. Tight end Kyle Rudolph has flashed, but he's inconsistent. Jerome Simpson is not a starting wideout. Points could be difficult to come by most weeks. The defensive side of the ball is aging in key spots, although an influx of youth from rookies Sharrif Floyd and Xavier Rhodes should provide solid depth. Head coach Leslie Frazier has pieces to maneuver, but his future for better and worse is tied directly to the quarterback position.
Player in the spotlight: Christian Ponder – With the most dominant back in the game giving defenses headaches, Ponder has no excuses for playing poorly. However, the rumblings about his longterm status are getting louder by the day. The addition of Jennings and Patterson gives Ponder a pair of deep threats to target, but he has yet to distinguish himself as a down field thrower. The good news is Ponder improved greatly from year one to year two. The bad news is he is looking like little more than a "game manager." Harvin was an excellent security blanket. If no one picks up the slack, Ponder will find the already rising temperatures on his seat blazing hot.
Trouble spot: Cornerback – Veteran Antoine Winfield took his 27 career interceptions to Seattle in the offseason. This leaves Chris Cook and Josh Robinson and their career 2 interceptions to man the corners in 2013. With Calvin Johnson, Brandon Marshall, Dez Bryant, A.J. Green, Randall Cobb, Victor Cruz, Hakeem Nicks, DeSean Jackson, Steve Smith, and Antonio Brown on the schedule, the not so dynamic duo will be tested on a weekly basis. The Vikings want to play small ball, not engage in shootouts.
Fearless forecast – Unless Peterson is even better than he was a season ago, Minnesota will have a hard time getting to 10 wins again. A fast start will be imperative because things get rough after Week 6. Say hello to 8-8.
No Comments