Chris Osgood Retires From Hockey
Added on Jul 19, 2011 by J Merrill in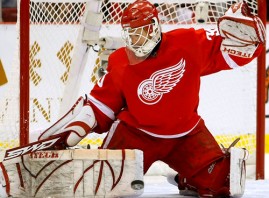 Chris Osgood admitted that he toiled with the decision for a while, but the three time Stanley Cup-winning goaltender announced it was time to hang up the skates. The 38 year old Chris Osgood is leaving the NHL with 401 career wins, and 317 of them were with the Detroit Red Wings. He won the Stanley Cup twice as a starter with the Wings, and once as a back up goalie. Osgood played 14 seasons with the Wings, and the other 3 were with the New York Islanders and St. Louis Blues.
Osgood said he was hoping the decision would be become easier over time, but that is not how it played out for him. He said "I wrestled with it every day. It was on my mind and made it difficult for me to even operate some days because it was taking a toll. I thought it would be easier, but it's been very difficult for the last few months here deciding what I should do. Now I'm looking forward. I can move on and I'm excited about what I'm going to do with the organization."
Detroit General Manager Ken Holland also announced that Osgood would in fact have a future with the Red Wings. He will be brought on board as a goalie consultant, and he will help mentor the Red Wings goalies.  Holland also said he will be signing another goalie to back up Jimmy Howard by the end of the week.
Osgood even said he considered telling the Wings he was ready to go, but he knew there was a real possibility he could be injured again. He said "I could have told Kenny I was 100 percent ready to go. I have been working out since I came back from surgery, but I couldn't guarantee I wouldn't get hurt again. Part of my decision is I didn't want to put them (the Red Wings) in a situation where come December I can't play anymore. That wouldn't look good for me or the team."
When asked about his favorite memory as a Wing, and Osgood talked about winning his 400th game. He said "It was a late arrival in Denver and we played the previous night (in Minnesota). The guys were exhausted and they played their hearts out. I could tell how hard the guys were working and they would do anything for me. As a player it doesn't get any better than that. That game was one of the reasons I decided to retire. Beyond winning the Cup again, I can't do anything better than that game, playing with my teammates and feeling that connection and closeness in competition. It doesn't get any better than that."
Holland was very proud of Osgood, and said it was his pleasure to have a player such as him on the ice. He concluded "Any time you're in the top 10 of anything that's been around almost a hundred years (like the NHL), it's pretty special. People would say that Chris played on a good team and use that as a reason why anybody could accomplish what he's accomplished, and my response is most of the guys that are on that list also played on good teams. If it was so easy, everybody would be doing it. It's not easy to win 400 games. He's won two Stanley Cups (as a starter). He has 50 regular-season shutouts. I think Chris thrived in dealing with the pressure of playing on a good team, on a team with high expectations year in and year out."
No Comments