Happy Birthday The Great One: A Look At Some Of Gretzky's Numbers
Added on Jan 26, 2011 by J Merrill in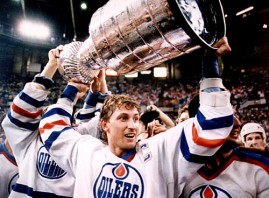 I am dreading the day when I tell a nephew or youngster a story about Wayne Gretzky and the only reply I get is, Who? I am hoping this doesn't happen for a long time as he is one of my favorite players, in any sport, of all time. In case you didn't know, The Great One- Wayne Gretzky, turns 50 years old today, and I can't think of a better reason to ramble about the numbers he put up in his career. So here is a quick look at some numbers from the 4 time winner of Lord Stanley.
One of my favorite Gretzky stats is his FOUR 200 point seasons. How many people have gotten even one 200 point season? Zero. The closest in NHL history that even came close was Mario Lemieux. In the 1988-89 Lemieux scored 199 points. As if the stat isn't crazy enough, Gretzky had three of them in a row beginning in 1983-84 and capped off by his NHL-record 215 points in 1985-86, when Gretzky had at least one point in 77 of Edmonton's 80 games. He is also the owner of 15 100 point seasons, and he also holds the mark for having the most consecutive 100 point seasons. Gretzky broke the century mark in each of his first 13 seasons until he was limited to 45 games due to injuries in 1992-93.
How many hat tricks does The Great One have? 50, and yes that's a record. He has ten more then Lemieux who has forty. Thats an incredible stat, albeit a little boring, until you break it down. Gretzky had 37 three-goal games, nine four-goal games and four games in which he scored five times! I don't think I have ever seen a five goal game. He also has the scoring record for one season with 92 goals on 369 shots. The most shots he ever took in a season. Gretzky's shooting percentage that season was 24.93 percent; for comparison, Alex Ovechkin (the only player to reach 60 or more goals in more than a decade) needed 446 shots to get 65 goals in 2007-08 — his shooting percentage was 14.6.
It took 424 career games for The Great One to score his 1,000th NHL point. He wasn't even 24 years old yet, and surprise, Lemieux is the next closest. It took Lemieux almost 100 more games (513) to reach his 1000th point. In fact, there were only 266 regular season games (of 1,487 in his career) where Gretzky didn't score a point. He was held without a goal in 848 games and without an assist 443 times.
So join me in wishing Wayne Gretzky a happy birthday, and take a look at the game where he scored 5 goals and reached his 50th goal mark. What a fantastic career, and a fantastic person!
No Comments