NHL Betting Picks: Colorado Avalanche at Edmonton Oilers
Added on Nov 25, 2010 by Jack Thurman in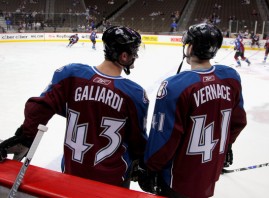 Only one NHL game for Thanksgiving Day–and only because its *not* Thanksgiving Day north of the border.  The Colorado Avalanche look to stay atop the Northwest Division as they travel to Edmonton to face the lowly Oilers.  Avs have been playing well lately but are coming off a loss in Vancouver.  Edmonton has lost 9 of 12 and has the worst record in the Western Conference.
Colorado Avalanche at Edmonton Oilers
November 25, 2010  6:00 PM Pacific
The Oilers started the season with back-to-back wins but have only won 3 of their 18 games since.  Oddly enough, two of those three wins were against the Chicago Blackhawks.  Oilers are #23 in scoring offense (2.45 goals per game) and dead last in scoring defense allowing an average of 3.95 goals per game.  Colorado doesn't rank particularly well on the scoring defense table either–they're #21 allowing 3.00 goals per game–but they've been playing better on that end of the ice lately.  Their success is based on scoring goals–the Avs rank #3 in scoring offense with a 3.43 goals per game average.
If you've read my postings here at SportsBetting World you're no doubt aware that I'm something of a 'contrarian'.  Being a contrarian, however, doesn't mean betting bad teams blindly.  At this point, it looks like trying to make a case for Edmonton is doing just that.  Sure, you're going against 'public opinion' but sometimes that 'opinion' is right.  This is especially true in hockey which doesn't attract the same mainstream wagering interest as a sport like NFL football–there just aren't as many 'squares' betting pucks as most other sports.   One thing I like to do in matchups like this is consider what I call 'victory scenarios'–simply stated, that's how one team can theoretically beat the other.  Strange things can happen in any sport, but we can't be concerned about that–that's fortune telling and not handicapping.
In a matchup between a qualitatively superior and inferior team there has to at least be one plausible 'victory scenario' for the bad team.  A good example would be last year's Calgary Flames–they were an awful offensive team but they played good defense and got solid goaltending.  On any given night, they could 'steal' a game in that manner.  This season, the Atlanta Thrashers haven't been a good overall team but their ability to score goals provides a plausible 'victory scenario' in certain matchups.   Edmonton, however, isn't a particularly good offensive team and a terrible defensive team.  Youngster Devin Dubynk is almost certainly getting the start here with Nikolai Khabibulin sidelined with a groin injury–he could become a good NHL goaltender but at this stage of his career we don't see him 'stealing' games.  So we've got a top 3 offense against the worst statistical defense in the NHL.  The Avs' may have their own defensive vulnerabilities, but the Oilers lack the firepower to exploit this.   The head to head series has been relatively competitive and the teams split 6 games a year ago and have split the last 6 in Edmonton.  The Avs have improved while the Oilers haven't–despite some young individual talent–and at a reasonable price we'll take a position on Colorado.
Bet Colorado Avalanche -125 over Edmonton Oilers
No Comments