Rangers Sign Dubinsky To 4 Year Deal
Added on Jul 22, 2011 by J Merrill in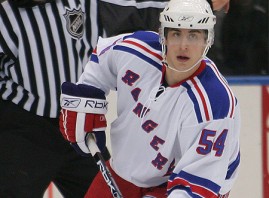 Many thought it was just a matter of time before the New York Rangers signed Brandon Dubinsky, but now that the pen has hit the paper, it is official. Dubinsky and the Rangers, who were a day from going to arbitration, have agreed to a four year deal that will pay Dubinsky a reported $4.2 million. The deal will have him under contract with the Rangers until the 2015-16 season.
Dubinsky didn't want to leave New York, in fact the 25 year old said he never wanted to leave. He said "I wanted to be in New York, it's the place I live, it's the place I love and I want to be here forever. At the end of the day, I think it's a home run for me. I hope the team feels the same way."
Dubinsky was New Yorks second round draft choice in 2004, and has 71 goals and 108 assists in 316 NHL games. He led the team last year in goals with 24, and points with 54. Since his rookie season in 2007-08 in which he scored 40 points, Dubinsky's point total has increased each season.
This is the third move for the Rangers in the off season. Earlier in July they landed unrestricted free agents Brad Richards and Michael Rupp. The Rangers face a different arbitration hearing with restricted free agent Ryan Callahan if they don't sign him by Next Thursday.
As for Dubinsky, he said he has been monitoring the moves being made by the Rangers, and is looking forward to the 2011-12 season. Dubinsky said "I can't even tell you how much I'm looking forward to the season. With all the guys we have coming back plus the signings we've made with Richards and Mike Rupp, I think we're going to be a contender in the East; I really feel that way."
No Comments