Winnipeg Jets Unveil New Logo
Added on Jul 23, 2011 by J Merrill in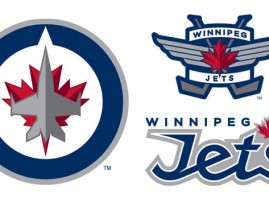 The True North Sports & Entertainment group unveiled the primary and secondary logos for the Winnipeg jets. True North purchased the Atlanta Thrashers, and moved them to Winnipeg, and initially were 'hush-hush' on if they would even choose the Jets as the name. They confirmed prior to the draft that they would be keeping the name, and yesterday they released the images of the logos that were developed in partnership with the NHL and Reebok. The logo is part patriotic as it was inspired by the logo of the Royal Canadian Air Force.
Mark Chipman, Chairman & Governor of True North Sports, said it was important that the Jets obtain a new identity. Chipman said "True North Sports & Entertainment felt it was important for the new Winnipeg Jets to develop a strong new identity. We felt it was important to authenticate the name Jets and we believe the new logo does that through its connection to (Canada's) remarkable Air Force heritage, including the rich history and relationship that our city and province have enjoyed with the Canadian Forces."
Senior Director of marketing and Brand Management Dorian Morphy said it was an absolute pleasure to continue working with the military. He declared "We have always had a close relationship with 17 Wing throughout the years, dating back to our annual Manitoba Moose Military Night. We are thrilled to be able to continue this relationship in a significant way. The design cues for the plane were inspired by the military jets flown by the Air Force over the years. So not only were we able to establish a new identity for our brand, but we were able to maintain a traditional, time honored look to the logo."
Chipman also commented on the fact they have 3 logos. Instead of choosing one, he said they felt they had some freedom to use all 3. He said "Unlike the Habs or the Red Wings or the Blackhawks, we didn't have just one logo that may have been more logical to go back to. We thought we had the freedom to try something new, but also make it very meaningful to the community."
The Jets will play their first regular-season game on Oct. 9 against the Montreal Canadiens at the MTS Centre.
No Comments