CFL Betting Preview: Calgary Stampeders at Montreal Alouettes
Added on Oct 10, 2010 by Jack Thurman in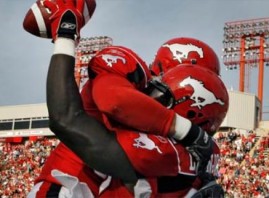 Even though Canada celebrates Thanksgiving in October, they share one tradition with their neighbors to the south–pro football is a big part of the holiday.  We'll take a look at the first of two CFL betting opportunities for Monday as the Montreal Alouettes host the Calgary Stampeders.
Calgary Stampeders at Montreal Alouettes
October 11, 2010  10:00 AM Pacific
Unique scheduling quirk to this game, as its a 'quick rematch' of a meeting of these same teams in Calgary last week.  That game was won easily by the Stampeders 46-21 as Calgary broke a brief two game losing streak.  Montreal did get QB Anthony Calvillo back in the line up but the offense didn't look to be quite in sync.   Both teams have already clinched playoff berths, though Calgary does have a decent Saskatchewan Roughriders team behind them in the rear view mirror.  Montreal has all but clinched first place in the East with a 9-4 record heading into this game and are the only team in the division with a record better than .500.
In some circumstances, this would be a good spot for a play on the team that got beat in the previous meeting but Montreal is facing some injury concerns that might not get the high profile of Cavillo's recent absence but could still cause problems in this matchup.  Center Paul Lambert is likely to miss this game, and anyone who knows anything about football understands the importance of the center to the offensive line.  The Als' will also be without Damon Duval who is the best kicker in the CFL and a significant part of the Montreal offense accounting for 139 points.
Calgary has been the most consistently excellent team in the CFL this season and with Montreal's injury issues we'll take them getting more than a field goal and look for them to pull off another outright victory.
Bet Calgary Stampeders +3′ over Montreal Alouettes
No Comments