CFL Betting Preview: Hamilton Tiger-Cats at British Columbia Lions
Added on Sep 18, 2010 by Jack Thurman in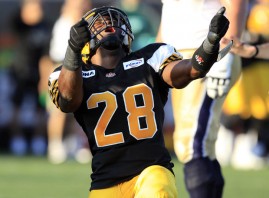 There's plenty of football in the NFL and NCAA this weekend, but there's also still value to be had north of the border.  We'll take a look at a CFL betting opportunity between the Hamilton Tiger-Cats and British Columbia Lions.  BC has won their last two games after a brutal 7 game losing streak, while Hamilton has scrapped to a 5-5 record good for second place in the CFL East behind Montreal.
Hamilton Tiger-Cats at British Columbia Lions
September 18, 2010  7:00 PM Pacific
Long story short–we're not sold on the 'revival' of the BC Lions.  Props to them for not quitting after a seven game losing streak left them below the cellar in the CFL West, but we're not ready to back them based on a home win over Toronto and a road win over a badly banged up Montreal team.  The Argos win was a tough scheduling spot for Toronto–off the traditional Labor Day (or as they call it in Canada 'Labour Day') game against Hamilton with 5 days of rest and a cross country trip.  Again, props to the Lions for taking advantage of these opportunities but we're still not convinced.
Hamilton is just the more fundamentally sound of the two teams.  BC's Casey Printers is a very talented quarterback, but he plays behind a very porous offensive line that allowed him to be sacked *eight* times against Toronto.  Look for the Ti-Cats to put them to the test again with a fierce pass rush.  When they have the ball, we like their quarterback Kevin Glynn (though he's suffered from some inconsistency this year).   Basically, we're taking the better and more fundamentally sound team getting more than a field goal–and while the 'key number' concept isn't quite as valid in the CFL getting more than a FG is a winning play longterm in any football league.  Look for the Ti-Cats to end the Lions' two game win streak with an outright victory here.
Bet Hamilton Tiger-Cats +3′ over British Columbia
No Comments