Dale Earnhardt Jr. Not Happy With The State Of Restrictor Plate Racing
Added on Jul 03, 2011 by Jack Thurman in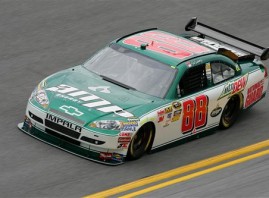 Dale Earnhardt Jr. may be NASCAR's most popular–and highest paid–driver but he's mired in a 94 race losing streak and it's apparently starting to take its toll. After a disappointing 19th place finish in the Coke Zero 400 at Daytona on Saturday night he launched into a tirade against the state of restrictor plate racing in NASCAR.
"I am really ticked off. It was a foolish … race. I don't know what to tell you. I don't like this kind of racing and you know it."
At one point Earnhardt was one of the best in the business at restrictor plate tracks but that was before the current trend toward two car 'pairs' drafting together during the race. It's not that Junior didn't have a good drafting partner–he was working with five time Sprint Cup champion Jimmie Johnson–but was essentially 'hung out to dry' after the #48 car took a green flag pitstop late in the race while Dale Jr's #88 car stayed out on the track. He made clear prior to the race that he's a 'lone wolf':
"I'd rather have control of my own destiny and be able to go out there and race and just do my own work and worry about my own self. Been growing up all these years racin' for No. 1, lookin' out for No. 1, doing my job. This is what I need to do, I need to do this to get up through the pack. This is how my car drives. Now you are doing it so different. Your thought process and everything you think about during the race is nothing near that."
"It is just different and weird."
After the race he didn't blame Johnson specifically for the poor finish but….:
"I'm driving my car, do what I'm told. They decided to do something different. I can't run the whole damn thing from the seat of the damn race car. I'm just doing what I'm told out there. I don't know how that affected us, if it did at all. It probably didn't."
Johnson has since found himself the target of Dale Jr's passionate fanbase and took to Twitter to defend himself against charges that he 'sandbagged' the #88:
"You people are crazy. When my crew tells me to pit, I pit. Steve and Chad (crew chiefs Steve Letarte and Chad Knaus) sort out the details."
Earnhardt will try to avoid his 95th race without a victory when the Sprint Cup tour heads to Kentucky next Saturday night.
No Comments