Kurt Busch Wins NASCAR Road Course Race At Sonoma
Added on Jun 27, 2011 by Jack Thurman in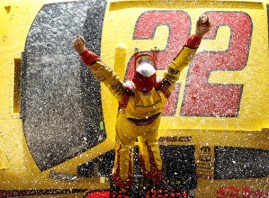 Kurt Busch has been running well lately after a rough start to the 2011 NASCAR season, and that good form continued on Sunday with his first career win on a road course. Busch had the dominant car all afternoon en route to the victory in the Toyota SaveMart 350 at Sonoma's Infineon Raceway. Busch led 76 laps and easily beat second place Jeff Gordon to capture the win.
Following Busch and Gordon across the finish line was Carl Edwards, Clint Bowyer, pre race betting favorite Marcos Ambrose, Joey Logano, Jimmie Johnson, Martin Truex, Jr., Kevin Harvick and Brad Keselowski.
Needless to say, Busch was pleased not only by the victory but by winning at a road course for the first time in his career:
"We've been on a great run these last few weeks. To get a road course win, it's a big check mark on my list. It's just really neat to bring home that 'W."

He also had props for teammate Brad Keselowski:
"It's a good feeling to know that the two teams are working as closely together as they ever have. Knowing that Brad is definitely maturing, seeing him bust off a top 10 at a road course is great. We went around the race track, I pointed out some of the apex points, exit points, shifting points. He absorbed it like a sponge."
"That's what it takes as a veteran of the team to help the kid that's coming up through and to have his information help us. That's exactly what's helped both teams get stronger."
The best postrace insult was thrown around by youngster Joey Logano, who called Robby Gordon a 'moron':
"He drives like a moron every week. We were a lot faster than him. I got outside of him one corner and he knocked in my fender. So I had enough of it. I'm not going to get pushed around; I don't care."
NASCAR goes from one extreme to another this week as they head to the superspeedway at Daytona for some high speed restrictor plate racing. The close quarters drafting will be a drastic change from the up and downshifting at Sonoma.
No Comments