NASCAR Betting Picks: Budwiser Shootout at Daytona
Added on Feb 12, 2011 by Jack Thurman in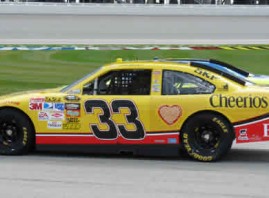 For those of us who bet on sports seriously we love to see another addition to our wagering menu and we'll get that on Saturday as the seemingly never ending NASCAR Sprint Cup series gets underway with the Budwiser Shootout at Daytona.  If you're new to NASCAR betting we've got you covered–we'll be posting a series of 'how to' articles explaining the different bet types and strategies.  For now, let's take a look at the race:
Budwiser Shootout at Daytona
Daytona International Speedway
February 12, 2011  5:00 PM Pacific
There are two primary types of NASCAR wagers that we'll be dealing with this year–the 'to win' wager and matchup wagering.  The 'to win' wager is self explanatory–you pick the driver that will win the race and if he takes the checkered flag you cash your ticket.  Matchup wagers should be familiar to anyone who has bet on golf–sportsbooks quote a matchup of two drivers and the driver with the best finish wins the bet.
What we usually do with 'to win' wagers is try to isolate several drivers who have a good chance of winning at good prices and split our bet among them.  Occasionally we'll put all of our 'eggs in one basket' but more often than not we try to spread it around.  The Budwiser Shootout is essentially an exhibition race–the actual Sprint Cup season will start next week with the Daytona 500.  Nevertheless, it's a highly competitive race and one in which the drivers go all out to win.  The format is different than a typical NASCAR event with a 25 lap opening segment followed by a 10 minute 'pit stop' break.  That's followed by a 50 lap sprint to the finish.  Here's how we'll play the 'to win' wagers:
TO WIN:
CLINT BOWYER:  Bowyer may not be a 'household name' a la Jeff Gordon or Dale Earnhardt, Jr. but he's a solid driver that's demonstrated an ability to win on restrictor plate tracks.  Bowyer won at Talledega last year and will use the same chassis in the Shootout.   Tested at Daytona earlier this year and turned in a very strong practice time this week.  He's +1600 at 5 Dimes and a great value at the price.
KEVIN HARVICK:  Harvick is the favorite in this race–he's won the Budwiser Shootout the previous two years and won two plate races last season including the summer race on this track.
JOEY LOGANO:  Logano is a future star and had the best car in practice this week.  Some question about his experience (or lack thereof) but his aggressive driving style should be made to order for this format.
Bet Clint Bowyer +1600
Bet Kevin Harvick +675
Bet Joey Logano +2700
MATCHUPS:
One of the reasons that NASCAR is such a great betting sport is the wealth of statistical data available on every aspect of driver performance.  That's how we handicap matchups–we look at recent form, past performance on a specific track, start position, practice times and several other factors of each driver in the matchup.  Then we evaluate prices and look for situations where we're getting a good price on a driver with a strong statistical basis for finishing ahead of his matchup opponent.  The process is similar to handicapping team sports–we don't necessarily bet on the best teams but look for situations where we're getting good value.
One more thing–different sportsbooks will offer different matchups.  More often than not we'll be using the matchups from 5 Dimes due to the wide array of props they offer.
Bet Kyle Busch -125 over Tony Stewart
Bet Clint Bowyer -120 over Carl Edwards
Bet Joey Logano -120 over Juan Pablo Montoya
No Comments