NASCAR Betting Picks: Gatorade Duel Race #1
Added on Feb 17, 2011 by Jack Thurman in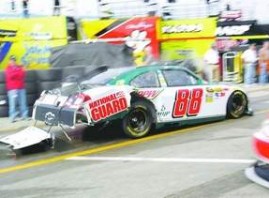 For those of us who bet on sports seriously few things make us happier than daytime betting opportunities during the week.  Until baseball season starts its usually European soccer action but on Thursday we'll have some good old fashioned American stock car racing NASCAR style from Daytona.  The two Gatorade Duel Races will set the starting lineup for this weekend's Daytona 500 and due to their significance in setting the field for NASCAR's biggest race of the year are excellent betting opportunities themselves.
NASCAR Gatorade Duel Race #1 from Daytona
February 17, 2011  11:00 AM Pacific
Most races during the NASCAR season have a very straightforward qualification process–drivers qualify with a couple of laps around the track on Friday with the best times setting the starting order for the weekend's race.  The Daytona 500, however, has a unique multi-part qualification process that began last Sunday with a time trial similar to one before any other race.  The difference in this case, however, is that only the first two starting positions were up for grabs–Dale Earnhardt Jr. took the pole (more about him in a moment) while Jeff Gordon qualified second.  The rest of the Daytona 500 field is set through a pair of 125 lap races–that's what we've got today.
And thanks to a bad break for Dale Junior these qualifying races are even more significant–Earnhardt wrecked his #88 Chevy in practice yesterday.  He'll still get credit for taking the pole, but will have to start at the back of the field since he's being forced to use a backup car.  That moves Jeff Gordon up to the pole position and puts everything from the #2 starting spot back to Dale Junior at the rear of the field.
Race #1 of the Gatorade Duels is chock full o' talent–in addition to Earnhardt the field includes defending Sprint Cup champion Jimmie Johnson, Kevin Harvick, Tony Stewart, Kurt Busch and Ryan Newman among others.  Hard to say how Earnhardt will approach the race–he'll say he's going to try to win, of course, but from a practical standpoint won't be taking any chances that might cause him to wreck his second car before the first race of the year.  Besides, even if he wins he still starts at the rear of the field.  For that reason you may see the #88 team try out a new setup or otherwise use this opportunity to do something different.
Ultimately, however, we've got to go with Kevin Harvick to win the Gatorade Duel Race #1.  You can make a good case that Harvick is the best restrictor plate driver in NASCAR right now–he won the July race at Daytona last year, won at Talladega and had the best car in the Daytona 500 before some bad racing luck cost him a victory.  He won the 2010 Budwiser Shootout, finished second by inches in his 2010 Duel race and earned more points on restrictor plate tracks than any other driver.  We'll play Harvick at 5 Dimes to win the first Duel and lock down the #2 starting position.
Bet Kevin Harvick +375 to win Gatorade Duel Race #1
No Comments