NASCAR May Have 'Secretly Fined' Ryan Newman
Added on Jun 07, 2011 by Jack Thurman in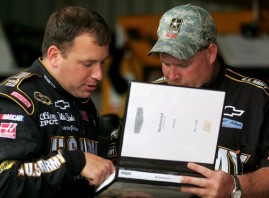 Never a dull moment in NASCAR, as was evident last weekend with 65 year old team owner Richard Childress beating up Kyle Busch in the garage following Saturday's Camping World Trucks Series race earning him a $150,000 fine. On Monday a rumor began circulated that another situation involving fisticuffs had resulted in a sanction against a very prominent driver.
Ryan Newman has had an ongoing 'feud' with rival driver Juan Pablo Montoya and last month at Darlington officials summoned both men to the NASCAR hauler in hopes to mediate the dispute. NASCAR's official statement on the meeting was that ""did not go as well as we had hoped it would." That could be the understatement of the year. Rumor has it that Newman slugged Montoya during the meeting and NASCAR 'secretly' fined him $50,000.
This isn't the first time that tempers have simmered during a NASCAR hauler disciplinary meeting. Several years ago Tony Stewart was placed on 'probation' for punching Kurt Busch during a similar meeting. Not surprisingly, Newman gave a 'no comment' when the story broke on Monday. NASCAR gave this cryptic statement:
"Anything relevant to discussions that NASCAR has with competitors in the hauler will continue to stay between NASCAR and the competitors, and NASCAR will always work to protect that bridge of confidence."
The drivers wouldn't even confirm that they came to blows inside the hauler. Here's what Montoya had to say:
"I don't know, ask him. could tell you either way, couldn't I? I could make something up. Let's leave it at that."
Newman responded:
"That's just speculation. It was a private meeting. That's why we had it at the hauler. With conflict there are varying opinions, that's what causes the conflict. I'm past it."
NASCAR caught some heat several years ago for issuing 'secret' fines to drivers. At the time they suggested they'd do better in the future so this story is a big potential embarrassment for the organization. With the exception of the UFC–where sexual harassment of reporters in the locker room and slumping ratings are apparently no concern to Dana White who spends his time in potty mouthed feuds on Twitter that 9th graders would find immature–NASCAR is arguably the most dysfunctional sports oversight body in the US. Unlike the UFC, as least they pay attention to the product and punish bad behavior. Fans just wish they'd be more open about it.
No Comments