US Open Tennis Betting Free Picks: The Women
Added on Aug 24, 2010 by Jack Thurman in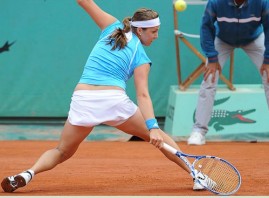 The US Open tennis tournament will get underway on Monday, August 30 and run through September 2.  The US Open dates back to 1881, and has been the 'Grand Slam' finale every year since 1987.  While there are divisions for doubles, mixed doubles, senior, junior and wheelchair players the focal point of the tournament is the men and women's singles competition.  The Men's Division will likely be a three man battle between Rafael Nadal, Roger Federer and Andy Murray.  The Women's Division, on the other hand, is much more wide open and offers several attractive wagering values including a big longshot.  Here are the players we like:
MARIA SHARAPOVA +450: Kim Clijsters is the favorite at +350, but is one of four women with single digit betting odds.  She is followed on the betting table by Maria Sharapova, Victoria Azarenka and Caroline Wozniacki.  Of the favorites, we like Maria Sharapova and will gladly take a position on her at a +450 price.  Sharapova won the US Open in 2006 and is rounding back into good competitive form following shoulder surgery.  With #1 ranked Serena Williams out of the competition due to injury, Sharapova may be the best all around competitor in the field.
VENUS WILLIAMS +1100: With her sister out of action, Venus Williams could be motivated to put up a strong effort here.  She's won this tournament twice, but not since 2001.  In fact, she's not won a Grand Slam tournament outside of Wimbledon since 2001.  Venus has also been battling a nagging knee injury, so if you want to take a position on her make sure to monitor the news for updates on this.  Still, at age 30 and with her sister sidelined this might be her last shot at a third US Open title.
Svetlana Kuznetsova +1400: Very solid competitor, who sort of gets lost in the limelight afforded her fellow Russian Sharapova.  2009 French Open Champion and 2004 US Open champ, she's a very good player on all surfaces and sort of 'under the radar' of the casual fan.  Very good value at the price.
Anastasia Pavlyuchenkova +5000: Considered the next great Russian women's player, look for her to be a household name within the next couple of years.  May be a little young at age 19 to prevail in a talented, veteran laden field but she's a name to watch in a future.  She's also a value at +5000 and has to skills to win despite her limited experience.
Look for our handicapping analysis of the Men's field later in the week.
No Comments