Don't Look Online For The Best Super Bowl Ticket Deals
Added on Jan 26, 2011 by Jack Thurman in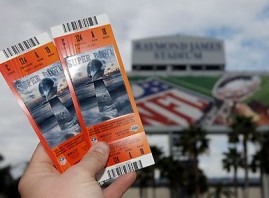 I've never been to a Super Bowl and–to be perfectly honest with you–I don't have a profound interest in doing so.  I'm much happier watching the game at home or better still in one of the many fine sportsbooks in the state of Nevada.  If you really want to attend the game, however, there's several logistical issues you need to deal with–you need to get to Dallas, you need to find a place to stay in the area and you need tickets to the game.  None of these come cheap, of course, but if you're looking to get the best price on your Super Bowl tickets the strategy to take might surprise you–you should avoid the online ticket resellers and just head to Dallas without your ducats in hand.
An article on the Business Insider website today outlines the strategy for scoring Super Bowl tickets at the most reasonable price possible.  It still won't be cheap, of course, but you'll still be able to get into the game without spending the $2,500 that ticket exchange sites like StubHub are seeing.  The article quotes Ety Rybak who runs a ticket and travel agency for sports fans.  He suggests that 75% of the time you'll have no trouble getting tickets for the Super Bowl once you get to the hosting city–and you may even save some scratch in the process.
There are other elements that dictate the 'supply and demand' of the Super Bowl ticket market that you might not think of immediately.  One of these, for example, is how long a team has gone without making a Super Bowl appearance.  In this case, both teams have been in it fairly recently which serves to decrease demand among their fans:
Of course a lot of factors are in play.  Super Bowl match ups, timing, and location are major variables.  If a team hasn't been to the Super Bowl in a very long time, it will be much more difficult for fans to get tickets.

However, since the Steelers have been to the title game three times in the last six years, many of their fans may have already made the trip south.  That means tickets might be in less demand than they would be if the Jets, who haven't been to the Super Bowl since 1969, had made it.

In any case, Rybak says that people should go down to the Super Bowl with an open mind.  They should set a price they're willing to pay for tickets and if it doesn't work out, that's still okay because the Mardi Gras atmosphere of Super Bowl week is well worth the trip on its own.
The last tip might be the best advice–whether or not you get tickets to the game you can head to the Superbowl betting that you'll have a great time.
"Certainly being in the stadium is incredible, but every night there are great parties. There's the Playboy Party, the Maxim Party, the ESPN Party. Every major brand is out there trying to meet new customers. There's always something going on and something a lot of fun to go to that will have players at or celebrities at it. DirecTV throws a party on Saturday with Maroon 5 performing a concert just in the middle of downtown Dallas. Even going down to the stadium on Sunday, there's so many different tailgate parties. It's just such an incredible experience to be at. There's never been someone that has gone down to the Super Bowl — whether they went to the game or not, and whether their team got blown out or not — that didn't have the most incredible time."
No Comments