Early Super Bowl Betting Action Coming In On Giants
Added on Jan 24, 2012 by Jack Thurman in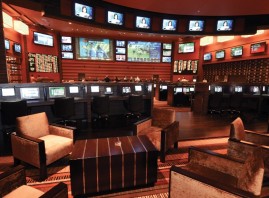 For whatever reason, the Super Bowl betting public is down on the New England Patriots and has fallen in love with the New York Giants. Despite this, Las Vegas and offshore bookmakers have held off on moving the line despite what so far seems to be one sided action coming in on the NFC Champs. The current Super Bowl pointspread has the Pats a -3 favorite–in most cases with a moneyline–at most sports books. Due to the wagering support for the Giants, the line has started to move with a few -2′ prices here and there.
Following the Giants overtime victory over the San Francisco 49ers the line for Super Bowl XLVI installed the Patriots as a -3′ point favorite. Money came in on the underdog, which isn't surprising given the availability of a 'key number' on the Giants. The money has kept coming in, however, though sportsbooks have been slow to move off of three.
There are a number of reasons why this may be the case. One scenario is that while most 'public' bettors are backing the underdog with smaller bets there are 'sharp' players making larger bets on the Patriots keeping some equilibrium on the pointspread. This is unlikely, however, given the nature of the early moves. Any 'wise guy' worth his salt is in no hurry to lay -3 with New England when every indication is that he'll later be able to get the Patriots laying less than a field goal. In fact, I'd suggest that any 'sharp' money favoring New England is still on the sidelines waiting for an opportunity to buy.
As a corollary to this, sports books are slow to move lines around key numbers for the simple fact that 'sharp' players will quickly grab the price leaving them back where they started. That's why the moves to -2′ so far have come with a moneyline attached (eg: New England -2′ -125 at the Mirage) since there's still a very attractive proposition on the other side. If a player thinks the Giants will win the game outright the opportunity of betting them at +105–even giving up the crucial 1/2 from +2′ to +3– could be attractive if not a mathematically smart thing to do.
In my view, however, the perception that 'everyone is on the Giants' just isn't correct. Sports Options bet percentages indicate 59% of wagers coming in on the underdog which isn't an exceptionally high number. The dynamic of Super Bowl betting has changed in recent years–at one point, it was a simple case of the public betting the favorite but as the underdog has done well in recent years even the 'squares' are being more selective.
No Comments